Venezuela's opposition struggles to garner support for a general strike
Comments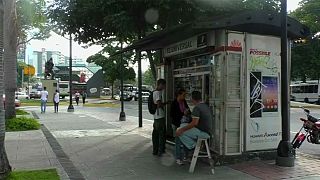 A 12-hour general strike in Venezuela appears to have had little effect, despite support for the opposition party which called for a shutdown.
The Democratic Unity coalition urged people to take action as part of escalating protests against President Nicolas Maduro's administration.
However, his Socialist government threatened to seize businesses that closed on Friday (October 28).
"This is a political issue — a power struggle, a clash of the titans, to see who can get what. In the end, it's the people who suffer. Work powers the country, without it, there's nothing," said Caracas resident Jose Castro.
Fellow resident Eduardo Martinez added:
"I am not a supporter of the government. I am for the opposition, but I don't agree with a 12-hour strike. It's absurd. It makes no sense. I repeat it's a strike, the existence of which makes no sense."
Venezuela has the world's largest oil reserves, but is nonetheless suffering a third year of recession, with widespread food shortages and soaring prices.
Maduro raised the minimum wage this week, for the fourth time in a year.
Polls suggest he would lose a plebiscite if it went ahead, which would effectively trigger a presidential vote and a possible change of power after 17 years of socialist rule.
Both the opposition and supporters of the leader are planning to march on the Miraflores presidential palace next week.