Smart Stadiums leading the way in boosting fan experience
Comments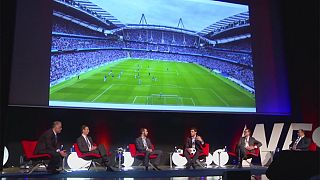 The focus of attention on the second and final day of the World Football Summit in Madrid was firmly on technological development of the game and the fan experience.
Over the past two years, the top-10 clubs in the world have enjoyed an increase of more than 70 percent of followers on their social networks.
This is accentuated by the possibilities offered by 'smart stadiums', which provide fans and staff a wealth of information and provide a more personalized experience.
In a world of sophisticated home entertaining systems and mobile devices that give the latest stats and updates, clubs and stadiums are facing more challenges to lure the fans away from the comfort of their sitting rooms which boast big flat screen tvs, surround sound and convenient beer-filled fridges nearby.
In order to improve the fan-experience Smart Stadiums offer visitors quick access to a vast range of up-to-date information from parking availability and match replays to online concessions order and player profiles.
Smart Stadiums, with hundreds of surveillance cameras to monitor crowd behaviour and quickly detect unruly fans in and outside the stadium, also provides for a safer venue.
Head of the Bundesliga Stadium and Security department Birger Nass said: ''I think safety and security is a main issue, because if people feel unsafe, or if people believe that they are unsafe in the stadium, they would never come. And therefore it's very important that everybody knows there's a safe atmosphere, and that if they go there with their kids, with their families, they can be back safe after the event".