Little sign of Brexit vote downturn for UK economy
Comments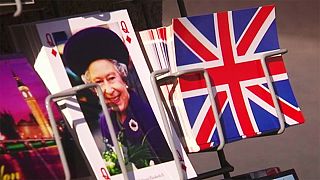 Britain is still waiting for the big downturn that was predicted after its vote to leave the European Union.
Not only was the economy stronger than we thought going into the referendum but it has been much more resilient than many people predicted following the referendum

UK finance minister
Economic growth in the UK slowed only slightly in the three months after the referendum.
Britain's statistics office said the economy grew by 0.5 percent in the July to September period. That was down from the previous quarter's 0.7 percent growth but beat forecasts for 0.3 percent growth.
The services sector improved, but manufacturing, construction and agriculture all contracted.
0.5% growth in #GDP in Q3, led by strong growth in services, particularly films, retail and computer programming https://t.co/0fCtmlthvu

—

ONS

(@ONS) October 27, 2016
Tough times ahead
Brexit supporters said this showed the pre-vote predictions of a slump were scaremongering.
But economists warned the real challenge is yet to come as inflation shoots up and companies postpone investment.
Finance minister Philip Hammond said the GDP data show the resilience of Britain's economy: "They are very strong figures which show that not only was the economy stronger than we thought going into the referendum but it has been much more resilient than many people predicted following the referendum."
But he also warned of tougher times ahead saying the government has to "prepare to support the economy … to make sure that we get through this period of uncertainty" as London gears up for difficult Brexit negotiations.
Here's my response to today's ONS</a> GDP figures. <a href="https://t.co/GGdt0UCFkr">pic.twitter.com/GGdt0UCFkr</a></p>&mdash; Philip Hammond (PHammondMP) October 27, 2016
There was little reaction on the London Stock Exchange and the pound gained slightly against the dollar.
Too pessimistic
The International Monetary Fund has admitted its warning of a post-Brexit-vote financial crash was too pessimistic.
It now believes Britain will be the fastest growing of the G7 leading industrial nations this year with 1.8 percent expansion, that should dip to 1.1 percent next year.
The Organisation for Economic Cooperations and Development has similar forecasts, also with 1.8 percent growth this year and 1.0 percent next year. That is half what it was originally predicting for 2017. The OECD also talks about a high level of uncertainty in its forecasts.
The GDP growth numbers make it less likely the Bank of England will feel the need to cut interest rates further in order to stimulate the UK economy when its policymakers meet next week.
Nissan boost
As the GDP information was released, Japanese carmaker Nissan said it would build two new models at its north of England plant despite concerns over Brexit.
Reuters reported that the decision to build them there rather than elsewhere in Europe, was won with what a source described as a package of support pledged by May's government to counter any damage from leaving the EU.
Britain did not offer Nissan compensation in return for any Brexit-induced costs to persuade the Japanese carmaker to build new models in Britain, Prime Minister Theresa May's spokesman said on Thursday.
"There is no compensation package," the spokesman said. "What we have made clear to Nissan and to others in the industry is that what we want is a competitive environment for the whole of the industry."
Last month, Nissan Chief Executive Carlos Ghosn said he could scrap new investment in Britain unless he was given a guarantee of compensation for costs related to any new tariffs resulting from Brexit.
Great news! Nissan will make the next-generation Qashqai – and X-Trail- in Sunderland. More https://t.co/07P9wJeAJIpic.twitter.com/5lYUw5hRsd

— Nissan Europe (@NissanEurope) October 27, 2016
Britain's big carmakers are nearly all foreign-owned and ship more than half of their exports to the other 27 countries in the European Union.
They had collectively warned that the June Brexit vote would make Britain a less-attractive destination for foreign investment. Nissan in particular had threatened to halt spending unless the government guaranteed it would be protected.
V good news that Nissan to build next-gen Qashqai in Sunderland. I wonder how May convinced them they'd be "shielded" from Brexit?? pic.twitter.com/MTr9zQb0yG

— Sarah O'Connor (@sarahoconnor_) October 27, 2016
.ReutersUK</a> If Reuters story true, big risk for UK gov&#39;t promising "Brexit relief" to Nissan is that every company is now going to want the same</p>&mdash; Alberto Nardelli (AlbertoNardelli) October 27, 2016