Bank of England's Carney says inflation and price rises will make things difficult for some
Comments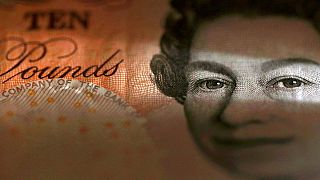 The head of the UK central bank has been talking up the pound.
It did rise on Friday – but only briefly – after Governor Mark Carney said the Bank of England is not indifferent to the level of sterling, which has fallen dramatically against the dollar and the euro since the Brexit vote.
But he pointed out inflation is the Bank's priority, though conceding the two things are linked: "We're not going to target the level, we're not going to have some magic number for it, but it does factor into our thinking."
The feeling in the financial markets is the weak pound will send inflation soaring in the UK – up by two to three percent by the end of next year.
Carney said the declining value of the British currency "helps the economy adjust".
But he admitted that adjustment will bring pain as prices rise, with food the first thing to become more expensive.
Carney added moving from "no inflation to some inflation" would mean things would "get difficult" for people on low wages.
The pound's plunge was in focus just one day before Carney spoke because of a pricing row between Britain's biggest retailer, Tesco, and Unilever, which is one of the world's largest consumer goods companies.
Unilever tried to push up prices to compensation for the reduced value of the pound, Tesco pushed back and in the end they reached a compromise.
Carney also said he would not "take instruction" from politicians about how the Bank of England follows its objectives. That was an apparent rebuff to criticism from Prime Minister Theresa May of its low interest rate policies.
"Politicians have done a very good job of setting up the system," Carney said. "Where it can be difficult sometimes is if there are political comments on our policies as opposed to political comments on our objectives.
"The objectives are what are set by the politicians, the policies are done by technocrats," he told a public meeting in the city of Birmingham. "We are not going to take instruction on our policies from the political side."
Today we've been in the Midlands listening to locals. #FutureForumBoEpic.twitter.com/nTNJPPdEpP

— Bank of England (@bankofengland) October 14, 2016