New pictures have emerged claiming to shed light on Europe's failed bid to land a spacecraft on Mars.
The images, taken by NASA, purport to show where the Schiaparelli lander crashed into the red planet.
The European Space Agency (ESA), carrying out the mission with Russian Space Agency (Roscosmos), says the lander is likely to have gouged out a crater 50 metres deep.
Debris such as the parachute used to slow the descent of the lander, as well as heat shields, is also identified in the pictures.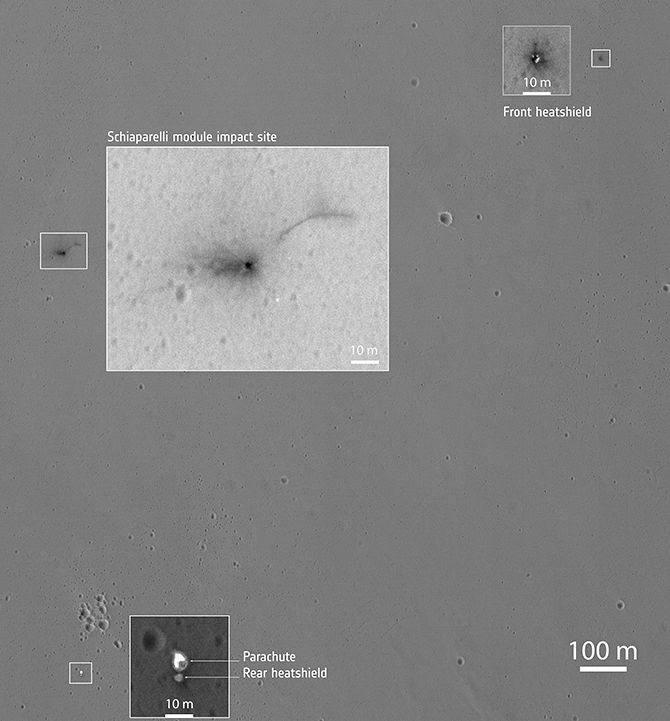 Credit: NASA/JPL-Caltech/University of Arizona
ESA said Schiaparelli was destroyed on impact after the crash on October 19.
The attempt to put a spacecraft on Mars was part of a mission to learn more about the planet and see if life has ever existed there.
Schiaparelli had successfully separated from its mothership, the Trace Gas Orbiter (TGO), three days before the crash.
The TGO is carrying an atmospheric probe to search for the presence of methane – a gas strongly linked to life on Earth – and other atmospheric gases. It is expected to start sending back data in 2018.
ESA had not intended to let Schiaparelli survive more than a few days – its primary purpose was to land and provide data for a future phase of the ExoMars mission.
That originally involved putting a rover and 'fixed science platform' on the planet in 2020, to take samples from the surface.
ESA, commenting on the pictures, said: "The zoomed insets provide close-up views of what are thought to be several different hardware components associated with the module's descent to the martian surface. These are interpreted as the front heat shield, the parachute and the rear heat shield to which the parachute is still attached, and the impact site of the module itself."