'Dignity and Justice': Who are the Yazidi ISIL escapees who won the Sakharov Prize?
Comments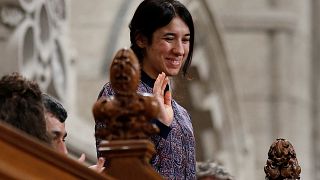 One is 23. The other 18.
Yet Nadia Murad and Lamiya Aji Bashar have suffered more in their young lives than most of us could imagine in our worst nightmares.
Both have survived the horrors of sexual enslavement by ISIL. And both are now campaigning for human rights, notably for their own community – the Yazidis.
On Thursday, the pair were named joint laureates of the European Parliament's 2016 Sakharov Prize for Freedom of Thought, an achievement that will help them extend their platform of influence.
Congratulations to #SakharovPrize winners @NadiaMuradBasee and Lamiya Aji Bashar, advocates for Yazidi community. RT to spread the news! pic.twitter.com/ZIRVMlA62P

— European Parliament (@Europarl_EN) 27 octobre 2016
Nadia Murad
Nadia Murad, now 23, was among thousands of women and girls abducted, tortured and sexually abused by fighters of the so-called Islamic State after the militants rounded up Yazidis in the village of Kocho, near Sinjar in northwest Iraq, in 2014.
It put a brutal end to a peaceful existence with her large family, in which Christians and Muslims lived side by side, and she dreamed of becoming a teacher and make-up artist.
But as explained on Nadia's website:
"Six of Nadia's nine brothers were executed on the spot. Nadia, along with her two sisters and thousands of other men, women and children were taken captive, subjected to unspeakable crimes. The captives were given a choice – convert to Islam or be executed. A third choice was provided to the young girls and women – sexual enslavement. Nadia was only 19 years old. Her and her two sisters were enslaved – their mother was executed as she was "too old" to be enslaved."
She was held in Mosul where she was "raped and tortured on a daily basis".
But Nadia escaped in November 2014, reaching a refugee camp and eventually making her way to Germany.
She has since become active as an advocate for the Yazidis, and refugee and women's rights in general, as well as campaigning against human trafficking.
She has briefed the UN Security Council on the problem of human trafficking and last month launched Nadia's Initiative to help victims of genocide. She has called for the massacre of Yazidis to be recognised as genocide.
Lamiya Aji Bashar
Lamiya Aji Bashar, 18, was captured in the same raid as Nadia and also kept as a sex slave by ISIL.
She escaped in March but was badly disfigured and blinded in one eye when a landmine went off as she fled. Two companions were killed.
She now lives in Germany, where she has undergone rehabilitation for her wounds, and works as an advocate for the Yazidis.
Sakharov Prize winners; Arbitrary Detention in Iraqi Kurdistan; Russia Bombing Civilians in Syria: HRW Daily Brief https://t.co/16GpFkDzTSpic.twitter.com/F9WOiAjH3Y

— Human Rights Watch (@hrw) 27 octobre 2016
EU Parliament President Martin Schulz said both women were awarded the prize "for their fight for dignity and justice".
Glad to announce that EP #SakharovPrize 2016 goes to Yazidi women @NadiaMuradBasee & Lamiya Aji Bashar for their fight for dignity&justice

— EP President (@EP_President) 27 octobre 2016
#SakharovPrize: @EP_President Martin Schulz on this year's laureates @NadiaMuradBasee and Lamiya Aji Bashar pic.twitter.com/xsI7kXlPNM

— European Parliament (@Europarl_EN) 27 octobre 2016
Greek Prime Minister Alexis Tsipras is among those offering congratulations for the award.
Congratulations to @NadiaMuradBasee & Lamiya Aji Bashar on winning #SakharovPrize for their struggle for Yazidi people and women's dignity! pic.twitter.com/2Otmpw87ow

— Alexis Tsipras (@tsipras_eu) 27 octobre 2016
Fighting the so-called #IslamicState & all terrorists should be the focus of whole world. #ISIS intention is to end civilization altogether

— Nadia Murad (@NadiaMuradBasee) 26 octobre 2016
with Reuters