Children 'still in the Jungle' though France declared camp cleared
Comments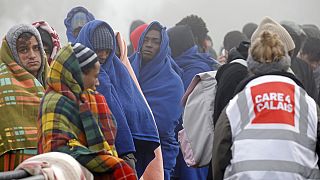 Hundreds of migrants including unaccompanied children are still said to be in the camp in Calais known as 'the Jungle', a day after French officials declared that it had been cleared.
Many youngsters slept rough overnight, according to aid workers, and this morning at least 100 gathered in front of a registration centre hoping to go to the UK, despite the facility now being closed.
Shipping containers, housing some 1,500 young people on site, are now said to be full.
Shockingly, around 100 children still slept rough in #Calais last night despite being safeguarded by amazing volunteers on the ground there pic.twitter.com/mrFLxacs4H

— Calais Action (@calaisaction) 27 octobre 2016
"As officials declare "mission accomplished", children in #Calais have no idea where to go as fires decimates camp" https://t.co/Of5D0b0oMHpic.twitter.com/hXWQylwBVc

— Stefan Simanowitz (@StefSimanowitz) 26 octobre 2016
A total of 5,596 adults and children have been brought from the cold and damp of 'the Jungle' for resettlement, says France, which is demolishing the camp.
Most have been taken to reception centres nationwide.
The United Kingdom has so far accepted more than 200 unaccompanied minors.
The operation to demolish the camp passed off peacefully for the most part, although tents and shelters were set on fire, reportedly by migrants, in a last act of defiance as their hopes of a new life in Britain evaporated.
Many migrants and refugees arriving in Europe see the UK as their best hope of making a new life due to its plentiful jobs and English language.
Fleeing poverty and war in the Middle East, Asia and Africa, they have gathered for years in Calais, hoping to cross the short stretch of sea to Britain by leaping on trucks and trains, or even walking through the tunnel under the Channel.
with Reuters