Apple profits fall for the first time in 15 years
Comments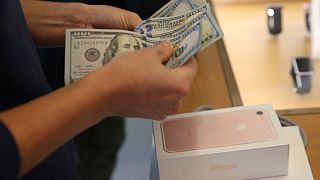 Apple's annual earnings have dropped for the first time in 15 years. The tech giant has posted its third successive quarter of declining iPhone sales set at 45.5 million, down five percent from last year.
The Silicon Valley company still sold $215.6 billion (241.5 billion euros) worth of iPhones, watches, Mac computers and other products in the year to September 24.
Apple's Chief Executive Tim Cook managed to paint a rosy picture saying he was thrilled with the response of customers to the iPhone 7 – especially in China.
But the fact is overall sales were down on last year – admittedly a record one – by eight percent.The decline in sales hit the company's profits, which fell 14 percent to $45.7 billion (51.2 billion euros).
Apple's annual revenue fell for the first time since 2001. ReutersGraphics</a> looks at recent iPhone sales: <a href="https://t.co/DKUZKykIS2">https://t.co/DKUZKykIS2</a> <a href="https://t.co/eJBBGPq9K3">pic.twitter.com/eJBBGPq9K3</a></p>&mdash; Reuters Top News (Reuters) October 25, 2016
It has to be said the technology crowd is still waiting for some radical new innovation, to prove the company founded by Steve Jobs has not lost its creative spark.
Tim Cook would not be drawn when quizzed about moves into TV, or the company building a car or a connected speaker like the Amazon Echo. He did say: "We have the strongest product pipeline we've ever had." But that is a line analysts have been hearing for some time.
Apple Profit & Revenue Slide on Slower iPhone Saleshttps://t.co/T4K5Y7OCLh$AAPL$DIA$QQQ$XLKpic.twitter.com/43sYxOC2M3

— Apple Reporter ● (@AppleReporter) October 26, 2016