India's Tata says bye-bye to Mistry, but why?
Comments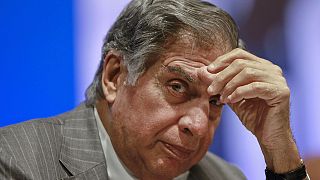 Ratan Tata has returned to head the Indian conglomerate that bears his name after the mysterious removal of Cyrus Mistry – his replacement just four years ago.
There is no word on why Mistry has been removed from running from the Tata group that controls firms ranging from carmaker Jaguar Land Rover, to steel mills, to airlines, to internet technology and the tea company Tetley.
Mistry was charged with reorganising the 148-year-old organisation.
Mistry's elephant. Worth reading this assessment of Cyrus Mistry's tenure as Tata Sons chairman by TheEconomist</a>. <a href="https://t.co/KC1uqUKRfP">https://t.co/KC1uqUKRfP</a></p>&mdash; Venkat Ananth (venkatananth) October 24, 2016
He has recently been fighting various problems that he mostly inherited, including a costly settlement with Japanese telecoms operator NTT Docomo and the sale of Tata's hugely loss-making steel business at Port Talbot in South Wales, Britain.
Ratan Tata, who is 78 years old, will be a caretaker chairman as the company searches for a new boss, a task it said would be completed within four months.
Hours after the decision was released, the Times of India reported that Mistry was taking legal action in response to his being ousted.
Cyrus Mistry to challenge Tata Sons decision to remove him as chairman in Bombay high court https://t.co/dM2bZnqYzO via TOIBusiness</a> <a href="https://t.co/LhmWHx1G2s">pic.twitter.com/LhmWHx1G2s</a></p>&mdash; Times of India (timesofindia) October 24, 2016
Agreed to take over reins of Tata Sons in the interest of group's stability: Ratan Tata https://t.co/ynTbFGaqGQ via TOIBusiness</a> <a href="https://t.co/g06cKRkZoC">pic.twitter.com/g06cKRkZoC</a></p>&mdash; Times of India (timesofindia) October 24, 2016