Eurozone business activity improves in October
Comments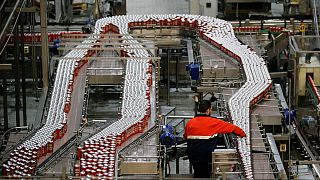 Business activity in the eurozone has expanded in October at the fastest pace so far this year.
Germany was again the star.
According to the latest surveys of companies conducted by IHS Markit, the region's largest economy recovered from weakness in the summer as both manufacturing and services picked up.
France's overall private sector activity also expanded but at a slower pace, with the service sector weaker than expected.
IHS Markit's eurozone flash composite Purchasing Managers' Index, seen as a good overall indicator of economic growth, jumped to 53.7 from September's 52.6. It was far above the 50 point mark which indicates growth in activity.
The surveys also found companies have been raising prices at the sharpest rate in more than five years.
The upturn in both business activity and prices is welcome news for policymakers at the European Central Bank, who are running out of ways to stimulate the bloc's economy.
#Eurozone economy showed renewed signs of life at the start of Q4. #PMI at 10-month high of 53.7 (52.6 in Sep) https://t.co/DhbHtrPVlkpic.twitter.com/I21pZeII8d

— Markit Economics (@MarkitEconomics) October 24, 2016
Output growth in #Germany rebounds as service providers pull out of their recent funk. #PMI at 55.1 (52.8 in Sep) https://t.co/ltLxVuaUTVpic.twitter.com/YaZz0L5×8N

— Markit Economics (@MarkitEconomics) October 24, 2016
#France#PMI: Stronger manufacturing growth fails to offset slower services expansion. PMI at 52.2 (52.7 in Sep) https://t.co/171J3MQS7Y

— Markit Economics (@MarkitEconomics) October 24, 2016