Hungary promises payroll tax cuts amid labour shortage
Comments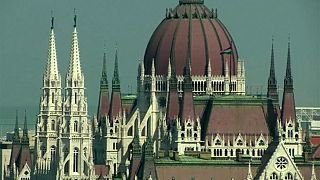 Hungary's government is promising to cut the level of tax on wages.
That will come in a two- to three-year programme which would also include incentives for employers to raise pay.
The Economy Minister Mihaly Varga did not provide details of the plan which he said could start to come into operation as early as January 2017.
The tax burden for Hungarian employers and employees is higher than average in the countries in the Organisation for Economic Co-operation and Development.
The country is also suffering a labour shortage following years of emigration to western Europe and that has been driving up wages and making it tough for businesses of all kinds to recruit.
Importing workers
Samsung Electronics recently said it has recruited Ukrainian workers to keep its Hungarian factory running smoothly.
Major German carmakers Audi and Daimler have also said they are feeling the pinch from the Hungarian jobs crisis.
Economy Minister Varga told the weekly Heti Valasz last month that Hungary may let in more foreign workers of similar "cultural and historical" backgrounds as Hungarians to beat a chronic labour shortage.
Prime Minister Viktor Orban's government recently put up billboards urging Hungarians to reject quotas for distributing mostly Muslim migrants within the European Union and held a referendum on the issue.
Hungary's unemployment rate fell to 4.9 percent in the June-August period based on official statistics. Gross wages were up by an annual 6.9 percent in August at a time of no inflation.
Wages in Hungary rise without productivity growth: … 16:35
A chart the Hungarian government will not… https://t.co/mWb8QqrNeO

— Hungary News Links (@dlhungary) August 29, 2016
Curious about how minimum wages evolved in the last decade in Czech Republic, Hungary, Poland, Romania, Slovakia and…https://t.co/op9dONnVKo

— Maria Cojocariu (@Maria_Accace) August 29, 2016