Every Friday journalists from euronews' various language teams choose a selection of stories from Europe and beyond which did not reach the international headlines Under the 'Moonbow' Photographer Be
Every Friday journalists from euronews' various language teams choose a selection of stories from Europe and beyond which did not reach the international headlines
---
Under the 'Moonbow'
Photographer Ben Gwynne captured a rare event on the Yorkshire Dales on 16 October, a 'Moonbow'. The rare lunar rainbow phenomena occurred around 7:40pm GMT (8:40pm CET) between the Yorkshire towns of Skipton and Keighly.
Gwynne was able to photograph the unique nightly event thanks to the light from a rising full moon and the refraction of water droplets in the air. 'Moonbows' are very rare and weather and atmospheric conditions need to be ideal for them to appear.
Long exposure photographs show off the colours, otherwise most Moonbows appear white to the naked eye.
---
Full exposure
The heads of New York City commuters were turning on Tuesday morning (18 October) when an artist displayed a nude statue of Hillary Clinton outside the Bowling Green Subway station in the Financial district of Manhattan.
The rendering of the Democratic presidential nominee was seen with an open blouse, breasts exposed and a man from behind trying to embrace her. She also had animal hooves as legs, with one foot covered in blood while the other was standing on paperwork.
As the video shows below, it was a bit of a challenge to try and keep the artwork upright.
---
Written drunk, acted drunk
Several writers from the US city of Portland have released their creative juices, quite literally, by getting completely blotto. The group wrote six screenplays while drunk, promising to produce whatever they wrote into short films.
Named the Drunk Series, the plays were performed by a cast who were also equally inebriated.
---
Portugal: eat breakfast to avoid train delays
A Portuguese rail operator has launched an ad campaign urging passengers to eat breakfast before travelling after dozens of people fainted during the morning rush hour.
Fertagus, which operates trains linking Lisbon to Setubal 50kms (30 miles) to the south, put up posters at its stations that read: "Travelling without eating breakfast can affect everyone's trip!"
Forty-six passengers fainted on the company's trains during the first half of the year, causing delays to 51 trains.
In addition to eating breakfast, Fertagus recommends passengers carry a bottle of water. They have also advised anyone to get off the train at the nearest stop, and seek help, if they start feeling unwell.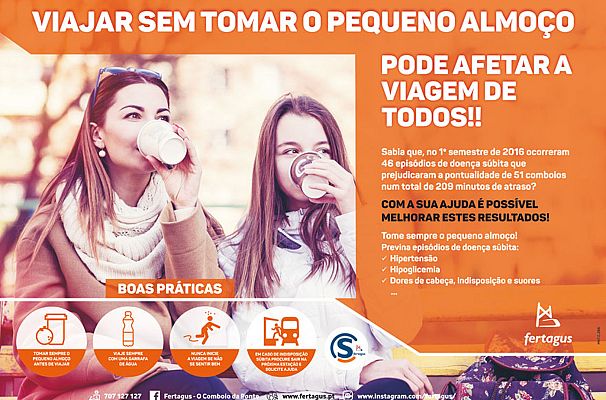 Source
---
New Zealand: masking tape saves endangered kiwi
A nature park worker in New Zealand has saved an endangered kiwi by using masking tape to patch up its badly damaged egg.
Claire Travers taped the egg after it was brought into the Rainbow Springs Nature Park at Rotorua. The expert's persistence paid off, after the bird – named Fissure – survived its cracked egg, hatching 11 days later.
All five species of kiwi in the country are listed as "threatened" or "at risk".
New Zealand's Department of Conservation says there are only 68,000 of the birds left in the wild, a figure declining by approximately 1,000 every year.
---
Jakarta launches rodent hunt offering 1.30 euro per rat captured
Indonesia's capital has launched a city-wide rat hunt offering 1.30 euro for each rat caught. Authorities in Jakarta are hoping their 'Rat Eradication Movement' will help rid the city of rats living on rubbish dumps in slum areas.
Jakarta Deputy Governor Djarot Saiful Hidayat has claimed he came up with the campaign after a recent encounter with a large rat. He has asked those interested not to use guns as people could be hurt by stray bullets,
Some Jakartans are opposed to the idea. ''Mr governor, please don't go ahead with the plan'', a resident pleaded on Twitter.
''People will farm rats, just like what happened in Hanoi.''
French colonisers in Hanoi, Vietnam, introduced a program in which people were paid for each rat tail caught, prompting people to start breeding them.
Jakarta residents paid for rats – Sky News Australia https://t.co/ATR0usPFnKpic.twitter.com/xX3ghVeCaO

—

KOMPAS

Jakarta (@KompasJakarta) 19 Οκτωβρίου 2016
---
UK: woman chases man after tube punch up
A woman has chased after a man after he punched another commuter in the face while on the London Underground.
Amateur video footage showed the moment a man wearing a hooded black coat hit another male passenger on the side of the face.
When the man who carried out the assault ran out of the train and down the platform, the woman sprints after him screaming, ''call the copper''.
A spokesman for British Transport Police said a suspect had been arrested following the incident.
---
Sweden opens first atheist cemetery
In a effort to accommodate Sweden's growing number of atheists, a graveyard has opened free of any religious symbols.
While the cemetery will be maintained by the church, people are expected to be able to choose what their graves look like.
Mr Erdem told The Local (news site): "People can decide for themselves what their graves should look like, but the cemetery will be free of all religious and nationalist symbols.
Although currently empty, several people have expressed a desire to be buried in the graveyard.
According to a 2015 poll by Gallup, Sweden has the second highest number of atheists in terms of population in the world. The survey found just over 75 percent of those questioned were either ''not religious'' or ''convinced atheists''.
Sweden gets its first cemetery free of religious symbols https://t.co/TmBY4JWT3tpic.twitter.com/oxjnFDLwJK

— The Local Sweden (@TheLocalSweden) 19 Οκτωβρίου 2016
---
Spanish charity provides women with dogs to protect them from abuse
An anti-domestic violence charity is supplying women with specially-trained guard dogs to protect them from abusive partners.
Security Dogs – a non-profit organisation – gives four legged friends to abused women. The project uses the natural instincts of the dogs to defend their owners.
Currently 20 women use the service, while another 16 are on the waiting list.
a fascinating scheme: domestic abuse survivors are being given specially trained dogs to protect them https://t.co/0qNOQWwfBy via borzou</a></p>&mdash; Rossalyn Warren (RossalynWarren) 18 Οκτωβρίου 2016
---