Catalonia vows to defy Spain court ruling overturning bullfight ban
Comments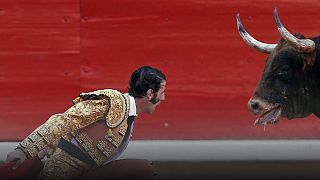 Separatist politicians in Catalonia are vowing to defy a ruling by Spain's Constitutional Court, which on Thursday overturned a six-year ban on bullfighting imposed in the northeastern region.
No matter what the Constitutional Court says, there won't be bullfighting again in Catalonia

Catalan Minister for Public Works
In a ruling that has been described as being 'like a red rag to a bull' in terms of inflaming regional tensions, the court in Madrid called bullfighting a cultural asset protected under national law.
The ritual has been popular in Spain for generations but its appeal has waned, particularly among younger people, and protests against bullfighting have been increasing.
The Constitutional Court ruled the ban was 'unconstitutional and void' as the protection under national law meant it could not be prohibited at regional level.
Bullfighters have welcomed the judgement, which saw judges vote by eight to three in favour.
"Above all we're free of being able to exercise our profession, which is legal, and what's more is part of this country's cultural heritage. Furthermore, to be able to defend ourselves legally, we have the legal basis to defend our profession and our life, which is bullfighting," said Juan Diego.
Catalonia, a wealthy region with a strong independence movement, became the first part of mainland Spain to outlaw bullfighting in 2010 – arguing it was against Catalan tradition.
Authorities there say they will ignore the ruling from Madrid.
"No matter what the Constitutional Court says, there won't be bullfighting again in Catalonia," insisted Josep Rull, Catalan Minister for Public Works.
Government guarantees #bullfighting won't return to #Catalonia "regardless of the Constitutional Court" https://t.co/MuAFDNXjDl

—

CNA

(@catalannews) October 20, 2016
The Canary Islands banned bullfighting in 1991, leading to accusations that Catalonia is being unfairly picked on.
"The question is why in the Canary Islands is the decision of its parliament respected, and not in Catalonia? It's an arbitrary decision," complained Gabriel Rufián, a politician from the left-wing ERC party in Catalonia.
Animal rights activists have vowed to continue campaigning until bullfighting is banned all over Spain.
Catalonia is already at loggerheads with Madrid; its parliament has voted to hold a referendum on independence next September.
"This is a dark day for animals." PETA suggestions writing complaint to Spain's Constitutional Court https://t.co/UcDnYLeM8f

— Liz Castro (@lizcastro) October 20, 2016