Ukraine: Thousands mourn Russian separatist commander killed in blast
Comments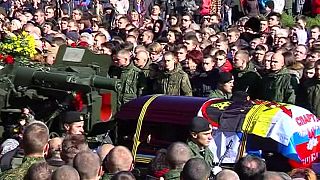 The funeral was held on Wednesday of prominent Russian separatist commander Arseny Pavlov, killed on Sunday in a bomb blast in the lift of his apartment building in the eastern Ukrainian city of Donetsk.
Thousands of people took to the streets to pay their respects.
Allies of Pavlov, who went by the nom de guerre 'Motorola', accuse Ukrainian government forces of murdering him to try to destabilise an already fragile ceasefire.
Prominent warlord Arsen 'Motorola' Pavlov killed in Donetsk blast https://t.co/YY9dmu4ceS

— The Guardian (@guardian) 17 octobre 2016
Donetsk is the biggest city in Ukraine's Donbass region, which pro-Russia militants seized in 2014.
Four armed masked men claimed responsibility for the killing in a video uploaded to the Internet.
The men, who appeared alongside a flag belonging to a pro-Ukrainian neo-Nazi group, said they would next target Igor Plotnitsky, leader of the self-proclaimed Luhansk People's Republic, together with Alexander Zakharchenko, prime minister of the self-styled Donetsk People's Republic.
Zakharchenko said the murder amounted to a declaration of war by Ukraine and promised revenge.
Pavlov, 33, was born in Russia, and commanded the separatist "Sparta" battalion which fought Ukrainian government forces in several key battles, including the struggle for Donetsk airport.