Ryanair blames weaker pound for profit forecast cut
Comments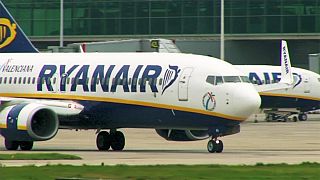 The weaker pound has led Europe's largest low-cost carrier Ryanair to cut its annual profit forecast by five percent.
It expects net profit for the year to March 31 of between 1.3 billion euros and 1.35 billion euros, down from a previous forecast of 1.375 billion euros to 1.425 billion euros.
The Irish airline's Chief Executive Michael O'Leary warned that that lower forecast will only hold good if there is no further weakness in fares or the pound in the second half of the year.
That follows similar statements from rivals including easyJet, Germany's Lufthansa and IAG, which owns British Airways and Iberia.
More flyers, lower fares
However, O'Leary said Ryanair expects to boost its market share in the coming months by selling more tickets at cheaper prices. It is looking to drop the cost of fares by up to 15 percent.
"We are in a low-fare environment, but we like low-fare environments because we are the lowest-cost producer," O'Leary said. "We are taking very significant traffic away from incumbents … and we see that continuing."
Ryanair – which is currently taking delivery on average of one new plane a week – plans to increase total passenger numbers to 119 million for the year from an earlier prediction of 117 million, thus piling further pressure on its competitors.
Rival easyJet, which depends on the UK for around half of sales, has already cut its profit forecast by a quarter for the year to September 30 in the wake of the Brexit vote.
Ryanair's shares rose three percent on Tuesday.