Greek unions protest against labour reforms
Comments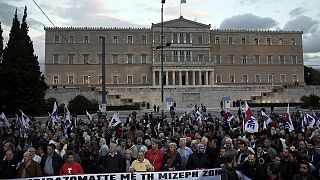 Around 7,000 trade union members demonstrated outside Greece's parliament on Monday evening calling on the government to protect wages, pensions and restore collective bargaining.
Athens and its creditors are due to launch a fresh round of talks this week on reforming its labour market, among conditions of a multi-billion euro bailout.
Lenders, particularly the International Monetary Fund (IMF), want further liberalisation of redundancy rules and to retain the current minimum wage system which is set by law and not collective bargaining as the practice in other EU member states.
Although there is growing consensus among European creditors and the IMF on the need for debt relief, its form and scope remains unclear.
Greece says it wants the review concluded by the end of the year, eyeing its inclusion in the European Central Bank's quantitative easing (QE) programme.