'Unshackled Trump' goes on the counterattack
Comments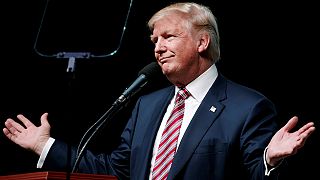 It was a defiant Donald Trump who turned up at his rally in Florida . Behind in the in the polls and shedding support following the publication of a video containing his crude comments about women, Trump went on the attack.
Leaked emails from Democratic rival Hillary Clinton's campaign manager received the Trump treatment:
"These WikiLeaks emails confirm what those of us here today have known all along Hillary Clinton is the vessel, a corrupt global establishment that is raiding our country and surrendering sovereignty of our nation," Trump told supporters.
I hope people are looking at the disgraceful behavior of Hillary Clinton as exposed by WikiLeaks. She is unfit to run.

— Donald J. Trump (@realDonaldTrump) October 11, 2016
On Tuesday (Oct 11) Trump slammed his own party announcing that he's relieved to be "unshackled " following disenchanted senior Republican figures, including House Speaker Paul Ryan, effectively cutting him loose after the notorious video. Trump says he is now free to go after his rival Clinton on an even more personal level at the third presidential debate which is in Las Vegas and has been called "fight Night".
With the exception of cheating Bernie out of the nom the Dems have always proven to be far more loyal to each other than the Republicans!

— Donald J. Trump (@realDonaldTrump) October 11, 2016