Trump and Clinton ramp up attacks after brutal debate
Comments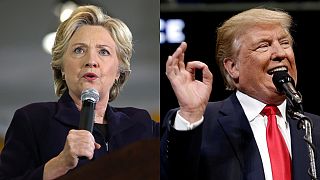 Both US presidential nominees remained in attack mode following Sunday's brutal televised debate as they held separate rallies in Pennsylvania and Ohio.
Donald Trump is fighting against polls which say he has dropped further behind Clinton in the wake of a 2005 video containing lewd remarks he made about women. So when fellow Republican Paul Ryan refused to defend him, a defiant Trump dismissed him on Twitter.
Paul Ryan should spend more time on balancing the budget, jobs and illegal immigration and not waste his time on fighting Republican nominee

— Donald J. Trump (@realDonaldTrump) October 10, 2016
Trump then turned on the opinion polls:
"… We get crowds like this everywhere, but we get them in Ohio, we get them in Florida, we're doing unbelievable. We have one coming up in Florida 25-thousand minimum. They just said there's no way we're three down. Even the polls are crooked. I'm telling you. Look we're in a rigged system folks," complained Trump.
Democratic candidate Hillary Clinton appears to be enjoying Trump's discomfort over the video. At her rally she told supporters it was typical of the man and his attitudes.
" He's disrespected and denigrated African Americans and Latinos, Muslims and POW's. People with disabilities and immigrants. He is an equal opportunity insulter if there ever was one."
"Trump is the worst major-party candidate this republic has ever produced." —ForeignPolicy</a> <a href="https://t.co/UdsK7rdqAy">https://t.co/UdsK7rdqAy</a></p>&mdash; Hillary Clinton (HillaryClinton) October 11, 2016
During Sunday's debate, Trump had apologised for the video while at the same time dismissing them as "locker room talk". The impact on female voters has not been what he had hoped for. Many have been outraged by his remarks about groping women and pundits say if he can not narrow the gender gap it could be Clinton in the White House.