Portugal: Taxi drivers protest against Uber
Comments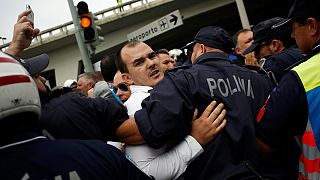 Tempers flared in Portugal on Monday as traditional taxi drivers protested against government moves to regulate ride-hailing apps like Uber, accusing them of unfair competition.
Scuffles were reported in Lisbon and a handful of people detained.
A cortege of cabs staged a go-slow in the capital, causing rush-hour chaos and temporarily blocking access to the airport.
"This can't go on," said Florencio Almeida, leader of the ANTRAL taxi drivers' association.
It is demanding equal rules across the board, amid complaints that even under the new regulations Uber drivers won't be subject to the same controls as classic cabbies.
Accused of bypassing safety, tax and licensing rules, the mobile app has faced high-profile
protests and court injunctions in several European countries.
Taxi driver Miguel Angel Leal came from Spain to demonstrate, saying: 'We have the same problem… We must be united in Europe".
Negotiations began on Monday after the taxi drivers' cortege reached parliament, to press home drivers' demands for an equal playing field.
Uber itself insists it operates within the law.