Killer clown antics potentially harmful to both pranksters and victims
Comments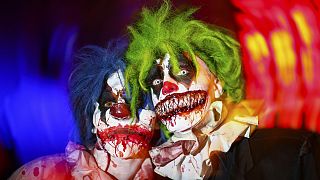 A flurry of so-called 'killer clown' sightings across the US, UK and elsewhere has prompted best-selling author Stephen King to appeal for anti-clown sentiment to be curbed.
Hey, guys, time to cool the clown hysteria--most of em are good, cheer up the kiddies, make people laugh.

— Stephen King (@StephenKing) October 3, 2016
The horror author penned the 1986 novel 'It' which tells the story of a supernatural being that initially appears as a clown and terrorises seven children in the 1950s and resurfaces in the '80s.
What are 'killer clowns'?
The modern-day prank began in the US, but appears to have since spread to Canada, the UK, France, Australia and New Zealand.
People, sometimes carrying knives, dress in clown costumes and act suspiciously. There have been reports of the clowns chasing children.
Greenville, South Carolina is believed to be the site of the first sightings this year. There, in July 2016, police began receiving reports of clowns standing calmly by the road, near launderettes or even trying to lure children into wooded areas.
The issue even made its way into the White House daily briefing on October 4.
The reason behind the craze is not yet clear.
Sightings in the
USA
In the United States, there have been clown sightings in all corners of the country.
From Idaho in the northwest, to Arizona in the southwest, to Alabama, Florida, Georgia and New Jersey, clown sightings have disturbed small children and even prompted several school closures.
Schools in Alabama in September were locked down after threats on social media were made targeting students. The same took place in Houston this month and police there increased security at nine local school districts.
Clown hysteria in the USA has also led to "clown hunting" in which people search for, and confront, people dressed as clowns. This makeshift vigilantism can sometimes gather large crowds.
In the early hours of Oct. 4, rumours circulated that clowns had been spotted near to, or on, the campus of Penn State University in Pennsylvania. In response, hundreds of students walked the streets of the campus some of them allegedly armed with hockey sticks.
The same took place in France in 2014. French police arrested five teens near Mulhouse for carrying baseball bats, a night stick, brass knuckles and mace as they sought to confront a suspected clown nearby.
Sightings in the UK
'Killer clown' incidents in the UK have been largely harmless, according to police reports. However those targeted are said to be frightened. In Durham, in the north east of England, a man in a clown outfit, armed with a knife followed four 11-12-year-olds to school last week (October 7).
"It is very alarming he was carrying a knife, however we do not think he intended to harm the children and, as far as we are aware, this is part of the prank," Sergeant Mel Sutherland of Durham Police said.
"We believe this is part of a much larger prank which is currently sweeping across the USA and parts of the UK," he added.
Meanwhile, in the south of England, Thames Valley Police said it had been called to 14 spooky clown incidents in 24 hours between Saturday and Sunday (October 8-9).