Wall Street boosted by higher oil prices, European markets mostly down
Comments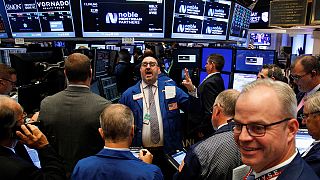 Wall Street got a boost on Wednesday from financial stocks and higher oil prices.
They rose above $52 – a level not seen since June – after data showed a bigger-than-expected draw in US crude inventories.
A report from the Institute of Supply Management showed activity in the U.S. services sector saw a big rebound in September, after having slowed to more than a six-year low in the previous month.
The latest data on private sector hiring in the US came in weaker than expected.
Friday sees the release of the much anticipated government jobs report for September which should give clues on the state of the world's largest economy and whether an interest rate rise might come soon.
A report from Bloomberg that the European Central Bank might be considering winding down its bond buying stimulus programme caused a dip in some of Europe's stock markets.
However banks gained as they would benefit from that. Milan's FTSEMIB and Spain's IBEX equity indexes, which are dominated by banking stocks, also rose by 1 percent and 0.1 percent respectively.
Deutsche Bank, whose shares slumped to record lows last week, also rose 2.8 percent, as credit rating agency Moody's said it had a "stable outlook" on the German banking system.
An ECB spokesman later tweeted that the euro zone's central bank had not discussed reducing the pace of monthly purchases. The scheme is due to run until March next year and many analysts expect it to be extended given that inflation remains low.
But the mere possibility of a scaling-back or "tapering" of the scheme was enough to rattle markets already questioning whether central banks can win the battle to boost growth and inflation, and whether governments should do more themselves.
The pound hit a three-decade low against the dollar, trading below $1.27 for the first time since 1985, and a five-year low versus the euro on concerns about the terms when it leaves the European Union, before regaining some value by the end of Wednesday's trading session.