Donors raise funds to prevent Afghanistan becoming a second Iraq
Comments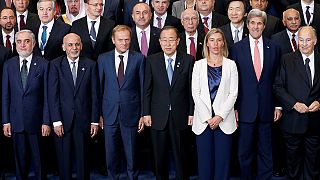 World powers at a donor conference hosted by the European Union have raised over 13 billion euros for Afghanistan.
With the governments in Kabul facing a resurgent Taliban 15 years after US forces helped oust the militants, more than 70 government have promised financial support for a country seen as strategic to global security.
US Secretary of State John Kerry was one of several prominent figures attending the conference:
"I urge Russia, China, Pakistan, India, and Iran to think about the special role they could play in this region in order to help make a major difference, not only in the long term economy and future social structure of Afghanistan, but in reaching peace with the Taliban."
A Good Omen For #Afghanistan's future: More Than $15 Billion Pledged Through 2020 At Brussels Donors Conference https://t.co/h3QnqFVG7N

— AbuSid (@sid_abu) October 5, 2016
Illustrating the enormity of the Taliban threat there was news of yet another attack in Kabul. Fears of Afghanistan becoming another Iraq were dismissed by the country's chief executive, Abdullah Abdullah in an interview with Euronews:
"They (Taliban) were probably thinking that maybe if they have a military success before or on the eve of the conference, may be this could have a definite impact on the results but nobody here accepts Taliban's war-waging."
Despite such largesse from the donors, Afghanistan is required to sign up to a host of political, economic and social reforms in return for the money. Most contentious, the European Union wants Kabul to take back its nationals who are not considered refugees, although EU donor money is not linked to such demands.
Reporting from Brussels for euronews was Maria Sarsalari who said donors appeared were well aware of what was at stake:
"Quite a long time after what many saw as a lack of attention given to the problem of Afghanistan compared to what was given to such crises as Ukraine and Syria, the international community has now sent a message from the headquarters of the European Union that it is very serious about helping to support peace, stability and state-building in Afghanistan."