World's largest air purifier makes debut in China
Comments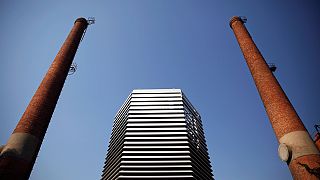 The world's largest air purifier, designed for now as an environmentally-conscious experiment and art installation, has made its debut in Beijing, China.
Created by Dutch artist Daan Roosegaarde, the seven meter tall air purifying tower treats 30,000 cubic meters every hour. It collects more than 75 percent of PM2.5 and PM10 smog particles and then recirculates the purified air creating a 360-degree "bubble".
Roosegaarde, 37, said he was inspired to design and launch his Smog Free Project in China when visiting the country in 2013. High smog and pollution levels in Beijing prohibited children from leaving their homes.
"I believe we should act now and do more, not less on order to make modern cities liveable again," Roosegaarde said. "Smog Free Project is the beginning of a journey to create solutions together towards smarter and brighter cities."
Like a giant vacuum cleaner, the tower sucks in polluted air thanks to ion technology, which electrically charges and attracts air molecules into its purifying system.
Once inside, pollution particles are sifted out of the air thanks to a negatively charged electrode. Vents then recycle the filtered air outwards.
The entire process requires 1,400 watts, or roughly the same amount of electricity needed to run a water boiler and is generated using wind energy.
But the tower is only one part of Roosegaarde's Smog Free Project.
Roosegaarde's plan is to collect smog particles from the tower and compress them into Smog Free Jewelery, which he hopes will attract more attention.
Smog is a serious problem in China.
Researchers at the University of California Berkeley in August last year calculated 4,000 people in China die every day, or 1.6 million every year, due to health complications related to poor air quality.
By comparison, just under 55,000 deaths in the United States were attributed in 2010 to air pollution.
The UC Berkeley study found that 99.9 percent of eastern China, where most of China's heavy industries and cities are located, has a higher than annual average of smog particles in the air.
As of Thursday Sept. 29, Beijing's air quality, according to the Air Quality Index (AQI) which tracks air pollution in real time across the country, stood at 159 or "unhealthy", having high numbers of airborne smog particles.
These particles are smaller than the width of a human hair. Some can only be seen using an electron microscope and are comprised of acids, organic chemicals and metals. Over time, they can affect one's health as their size allows them to burrow deeply into lung and other tissues and even infiltrate the bloodstream.
London, known too for struggling with air pollution,as do other European capitals like Paris, has an air index of 50. Paris' air quality index is 25, according to the AQI.
But China is taking measures to reduce its air pollution levels. The government has a plan to cut 60 percent of its power sector emission by 2020, and it has created a five-year plan that targets urban smog.
Liu Guozheng, the Secretary-General of The China Forum of Environmental Journalists, says Roosegaarde's air purifying tower will help promote a "green lifestyle" among Chinese citizens.
"Our goal is to guide the public to a healthier lifestyle, low carbon development and to raise awareness amongst the public and reduce smog," Guozheng says.
There is also an added perk. Pollution particles collected by the air tower will be compressed into rings – as a way to further engage people with reducing air pollution. Each ring carries the equivalent of 1,000 cubic meters of air pollution.
Roosegaarde's air tower is on display in Beijing's 751 D-Park, and will tour four of China's most populated cities.