Boris Johnson ditches insults and talks 'jumbo' trade deals in Turkey
Comments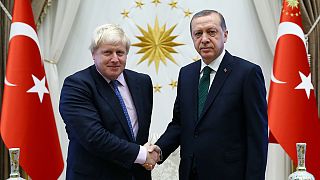 Britain's Foreign Secretary Boris Johnson has said he hopes for a big trade deal with Turkey after the UK leaves the European Union.
I hope (there) will be a new jumbo free trade deal between the UK and Turkey

British Foreign Secretary
Johnson met President Erdogan on Tuesday and several other senior figures from his host country, on his first visit to Turkey since his appointment to the post.
He said his lewd poem about the Turkish leader – involving sowing wild oats and a goat – had not come up in conversation.
"Much to my amazement it has not come up at all. Nobody raised such trivia until you did," he told a reporter.
Johnson wrote the poem earlier this year – before he became Britain's chief diplomat – after a magazine invited readers to send in rude rhymes about Erdogan in protest at Turkey's crackdown on free speech.
A senior Turkish official later said Ankara would draw a line under Johnson's past comments, but said relations would be damaged if he repeated such insults.
But one of the aims of this visit was to build bridges and pave the way for a new relationship with Turkey once the UK leaves the EU.
On Monday he said Britain was happy to be "one of the biggest recipients of Turkish goods", adding that he was proud to own a "well-functioning Turkish washing machine".
On Tuesday, as he met his Turkish counterpart Mevlut Cavusoglu, Boris Johnson looked to Britain's post-EU future.
"We can begin the preparatory work for what I hope will be a new jumbo free trade deal between the UK and Turkey," he told a joint news conference. "We may be disentangling ourselves from the treaties of the European Union, but we are not leaving Europe."
Johnson, who has Turkish ancestors, has been accused of hypocrisy. On Monday he said Britain would help Turkey's bid to join the EU in any way possible.
Before the UK's referendum, the pro-Brexit campaign he jointly led cited possible Turkish EU membership as a threat to security and a reason to leave. The "Vote Leave" claim that "Turkey is joining the EU" – which it said meant that Turkish "criminals" could not be stopped from reaching the UK – was condemned as false and misleading.
This is utter hypocrisy from BorisJohnson</a> <a href="https://t.co/7GaAbzFG20">https://t.co/7GaAbzFG20</a></p>&mdash; Tim Farron (timfarron) September 27, 2016
Johnson also backed Ankara's policy on Syria. At the start of his two-day trip the British foreign minister visited a refugee camp near the Turkish border with Syria, and met exiled members of the Syrian opposition.
Heard firsthand at refugee camp in Turkey from victims of #Asad's appalling regime. UK committed £2.3bn to support those affected by crisis pic.twitter.com/PYzniGZnV5

— Boris Johnson (@BorisJohnson) September 26, 2016
Boris Johnson says UK will take action against Gülenists, following visit to bombed Turkish parliament in Ankarahttps://t.co/yOTrK8lymO

—

DAILY

SABAH

(@DailySabah) September 27, 2016