Bosnian Serbs defy top court to hold 'Statehood Day' referendum
Comments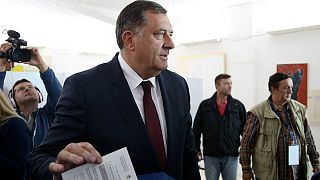 Bosnian Serbs are voting on Sunday in a referendum over whether to maintain a disputed national holiday.
They are doing so in defiance of Bosnia's highest court and Western pressure to call off a process that risks stoking ethnic tensions in the divided country.
The leader of the Bosnian Serb Republic, Milorad Dodik, is accused of provocation over his determination to keep January 9 as "Statehood Day".
It is the date in 1992 when Bosnian Serbs proclaimed the creation of their own state, precipitating the Balkans war.
#Bosnia's Serbs defy Sarajevo with referendum, ramping up tensions in the fragile country - by @RusmirSM: https://t.co/IQczGVKuUn@AFP

— Rachel O'Brien (@robr1) 23 septembre 2016
But Banja Luka resident Tomislav Stajcic is equally firm.
"Let me tell you," he said.
"Everyone has a birthday. There is no force on this earth, political or divine or any other really, which can change the date of your birth. What they have been doing to us is completely senseless. We will celebrate this day, even if no one else accepts it."
On 'Statehood Day', Serb flags are hung out and Orthodox Christian ceremonies held in public institutions, in a holiday critics see as discriminating against Muslim Bosniaks and Catholic Croats living in the Serb Republic.