Turkish company brings Transformers to life
Comments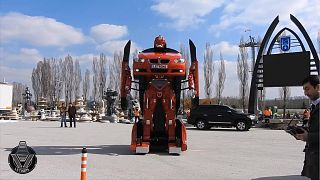 A Turkish company has taken childhood dreams of cartoon robots that transform into cars, and turned them into reality.
Letvision's new machine, a BMW that turns into a standing robot, is called "LETRONS", and is styled on the 1980's cartoon and toy franchise "Transformers".
The machine was created in only 8 months, and did in fact start life as a fully functional BMW.
Unfortunately in its current edition, LETRONS cannot be driven, and is instead controlled by remote control.
But other aspects are already fully functional. Although it cannot yet walk, that is the ultimate goal, and the head and neck can turn, as can the fingers and wrists.
Want one?
The LETRONS is only in its early stages of development, but with backing from the Turkish ministry of Industry, the future looks bright.
Letvision say they aim to make the vehicle available for sale, but only "if the buyers' project and their reasons for use, meet the criteria".
It's not yet clear what this criteria is, but one imagines it will rule out clients who wish to bring the Transformers' nefarious enemies, the Decepticons, to reality.