EU trade ministers consider troubled transatlantic pacts in Bratislava
Comments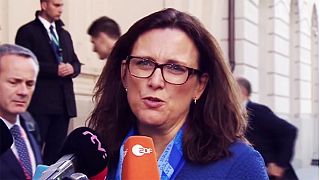 EU trade ministers are meeting in Bratislava on Friday to consider troubled transatlantic deals described as among the most contentious issues the bloc has ever faced.
CETA is done. We'll not be opening it

EU Trade Commissioner
The informal meeting is being held as part of Slovakia's EU presidency.
It is thought the planned accord with the US known as TTIP – the Transatlantic Trade and Investment Partnership – could be shelved until after the US elections. France's trade minister has said it is dead, and that he will table a motion to end the talks. Germany's economy minister has said the discussions have failed – although Chancellor Merkel backs the treaty.
A dozen European countries, including Italy, Spain and Britain, have affirmed their support for TTIP. Others, such as Austria and Belgium, are reticent.
Washington has been keen to save at least parts of the deal before President Obama leaves office in January. In Brussels officials believe a formal settlement will be hard to sell politically and recognise that substantive talks will have to await the arrival of the next US administration. Discussions have focused on salvaging progress made over the three years of negotiations.
In contrast, the European Commission is more upbeat about the proposed EU trade deal with Canada, insisting that CETA – the Comprehensive Economic and Trade Agreement – is still on track. It is due to be signed at a summit in Brussels on October 27, although ratifying it at national and regional level could take years. It's thought ministers may look for a way to bring it into force provisionally.
In response to the doubts of Austria in particular as well as other EU states over the deal, the Commission has set out to dispel concerns.
"CETA is done. We'll not be opening it. What we are discussing with the Canadians and some of the member states, if we should make some clarifications and a declaration that could calm some of the concerns. And this is why it is very important that ministers voice those concerns today so that we can start working on such a declaration in good time for the summit in October," EU Trade Commissioner Cecilia Malmstrom said as she arrived for the talks in Bratislava on Friday.
Council of trade ministers now eu2016sk</a>. CETA first point. Hope to find agreement on the way to swift ratification and prov. application</p>&mdash; Cecilia Malmström (MalmstromEU) September 23, 2016
Germany's Social Democrats gave their backing to CETA this week.
Both planned deals have sparked fierce opposition. In Canada CETA has been described by critics as a threat to democracy, public services and action on climate change.
Their supporters cite economic benefits and say the EU's global credibility is at stake. But critics including unions and environmentalists argue they threaten safety standards, jobs and wages.
The pacts are seen as under threat from forces of populism, especially in the wake of Brexit – the UK's vote to leave the European Union.
We are sleep walking into another crisis according to former RTE Chairperson #CETA#TTIPhttps://t.co/PdJMSjJ4Qz

— Uplift (@UpliftIRL) September 23, 2016