Civil defence centres 'targeted' as Syrian army's Aleppo offensive intensifies
Comments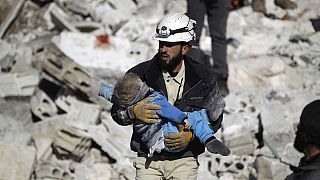 The Syrian army's new offensive in the rebel-held east of Aleppo has intensified.
Several civil defence centres were targeted
Friday has seen the heaviest-yet bombardment of the city with several casualties reported. Syria's military say the airstrikes pave the way for a ground assault.
Video obtained by AP, which the agency says cannot be independently verified, shows what residents and activists describe as the aftermath of unprecedented bombing.
A building said to be a centre run by the civil defence group known as the "White Helmets" had been completely destroyed. In front was an upturned ambulance amid the rubble.
Volunteers say it's increasingly hard to operate in the face of deadly attacks.
"Several Civil Defence centres in the city of Aleppo were targeted, among them the Ansari centre. There were 25 airstrikes from 5am (local time, 0200GMT) till now. The Civil Defence were heading there to rescue civilians from under the rubble," said one unnamed man.
The UK-based Syrian Observatory for Human Rights claims Russian jets have been involved in the airstrikes.
A quarter of a million people are said to be trapped in the besieged parts of Aleppo.
The Syrian military has also been targeting rebel groups around Latakia. It has released this video showing its tanks in operation, saying the air force has also been in action.
The offensive against the rebels has killed off hope of reviving a ceasefire which collapsed on Monday.
The military say a ground operation in Aleppo – the most important part of the offensive following the air strikes – is yet to begin.
This week, war planes have pounded the country's largest city with its heaviest air strikes in months, killing dozens people, reports suggest.
State media reports the army has prepared exit points to ensure civilians can flee – though this has been contested.
Talks in New York between Russia and the US, which supports opposition rebel forces, failed to result in a newly-brokered ceasefire.