Healing trauma and repairing homes in eastern Ukraine
Comments
By
Monica Pinna
with
ECHO, OCHA, Ministry of Social Policy of Ukraine, June 2016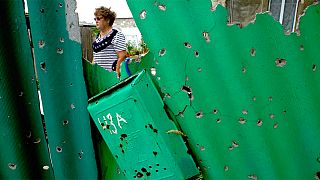 Around 3.7 million people have been affected by the ongoing conflict in eastern Ukraine. Nearly 9,500 people have been killed while 1.8 million are internally displaced
I cover the windows because when we switch the light on you can see it from outside and they might shoot in the windows

Stanytsia Luhanska resident
Stanytsia Luhanska is one of the villages along the "contact-line" in eastern Ukraine. It is on the border separating the auto-proclaimed Republics of Luhansk and Donetsk with Ukrainian government-controlled areas.
People surge between the two sides after hours waiting at checkpoints. Stanytsia has the only pedestrian crossing along 450 kilometers of hot frontline, where shelling and crossfire is daily and nightly despite the ceasefire. Every morning residents assess if, and how badly, their houses have been damaged.
Repairing while bullets fly in the east
Valentyna Tereshchenko invited euronews into her home:
"This is where the glass was hit," she says pointing to bullet holes, "and here the glass has gone. I cover the windows because when we switch the light on you can see it from outside and they might shoot in the windows".
Next door, Taisia's house has been recently repaired with the help of the NGONorwegian Refugee Council, financed by the European Union. Nevetheless, the work is never-ending.
"I spent the night in the bomb shelter, I came back and everything was covered with little pieces of slate," says Taisia Kornieva. "I came back and it turns out there is a big hole here the size of an entire slate".
Months ago, Taisia received the equivalent of 400 euros in construction material to repair the roof as part of the NGO's actions in Stanystia Luhanska:
Tatiana Stepykina is NRC's Communication Coordinator:
"We've managed to assist 78 families with emergency shelter repair. In this year we have assisted overall 9,200 individuals with repairing their houses".
euronews:
"Tanya, this is a completely deserted neighborhood. How common is it to find this kind of situation next to the contact line?"
"It's quite common for these conflict-affected areas. The population in this town used to be 14,000 people before the conflict and it has reduced by almost half". Official Ukrainian figures say only 600 people are still registered as living here.
"Who stays and who goes?"
"Young people and their families with small children have mostly abandoned the place and the elderly are staying".
Ready to go??!?!#Eastern Ukraine #contactlineNRC_Norway</a> <a href="https://twitter.com/eu_echo">eu_echopic.twitter.com/cobP7YqXfp

— Monica Pinna (@_MonicaPinna) July 20, 2016
Repairing the trauma of war in the west
It is no surprise that with such a large number of internally displaced people there is a growing need to address psychological distress, especially in children. Near Toretsk, in the Donetsk region, we met some of the educators who have participated in the "Life Skills Education project".
It is part of an EU Children of Peace project, here implemented by Unicef. Educators have been trained to use emotional communication to help conflict-affected students.
"Every teacher has a chance to practice a specific teaching lesson which helps them to implement this at school and teach the kids. The aim is that the child could open up in a relaxed situation, speak out and maybe overcome a certain event," says Project Coordinator Olena Spirke.
Yulia Philimonova participated in the Life Skills Education project last year. She is 16, and she left Donetsk in 2014. She moved into her grandmother's house with her mother and two-year-old sister. Her father still works on the other side, in Donetsk.
"I think this kind of lesson is better than a normal lesson. Here you can speak out, you can listen to the thoughts of everybody and it doesn't matter what they are. I knew all this situation was going to last a long time. And it turned out I was right," she says.
Every night an average of 3-5 Ukrainian soldiers die along the buffer zone in Eastern #Ukraine Yesterday they were 7 pic.twitter.com/1qekEFmLAt

— Monica Pinna (@_MonicaPinna) July 20, 2016
Closer to the contact line in Toresk, another family has been directly drawn into the conflict. Mykhailo, his wife and his four children were sleeping when something hit and destroyed half of their home. By some miracle they survived and continued to lived here since, without money for repairs, waiting to relocate. In these cases international help becomes crucial.
Samuel Marie-Fanon is part of the EU's humanitarian aid effort in Kyiv:
"Our priority is the most vulnerable areas. That means the areas next to the frontline and the ones not controlled by the Ukrainian Government. Forty percent of EU humanitarian aid goes to these non-government controlled areas, where there is no access to basic services. It's imperative that all humanitarian organizations have full access to these areas, in respect of humanitarian international rights".
After our visit Mykhailo was approached and supported by an international NGO that gave his family material to fix the roof. Repairs started at the beginning of September.
Material received! After #AidZone film, works started in Mikhailo's house #Ukraine#contactlineeu_echo</a> <a href="https://twitter.com/euronews">euronewspic.twitter.com/dRCivB4g92

— Monica Pinna (@_MonicaPinna) 16 settembre 2016