German economic growth to slow says finance ministry
Comments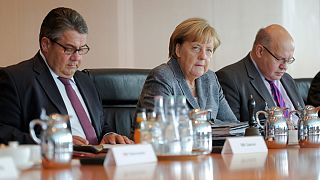 Germany's economic growth will slow in the second half of this year the finance ministry has said.
It blamed that on as weaker foreign demand for goods.
Europe's biggest economy enjoyed robust expansion in the first six months thanks to strong private consumption, higher state spending and rising construction activity.
But it is now set for a slowdown as growth in industrial orders stalled in July and factory output and exports unexpectedly fell.
The ministry said German economy will continue to grow, however, as private consumption is being boosted by record-high employment and rising wages.
In addition the government is spending billions of euros to accommodate and integrate a record influx of migrants.
"The economic upswing remains intact," the ministry said.
The economy grew by 0.7 percent in the first quarter and by 0.4 percent in the second.
Wages boost
German real wages rose by 2.3 percent in the second quarter from the same period in 2015.
The Federal Statistics Office said nominal wages increased by 2.4 percent on the year between April and June while consumer prices rose by 0.1 percent in the second quarter.
The increase was mainly driven by strong wage hikes for workers in the real estate business, transport and logistics sector as well as catering industry.
In 2015, German real wages rose by 2.5 percent on the year, which was the strongest rate since 1992.
Chancellor Angela Merkel's government introduced a national minimum wage of 8.50 euros per hour at the beginning of 2015, raising the purchasing power of low-income households.