Lufthansa reaches route sharing deal with Air China
Comments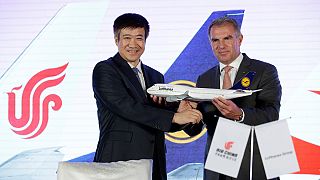 Lufthansa has signed a route sharing deal with China's flagship carrier Air China.
The agreement comes after two years of negotiations and will go into force in the middle of 2017.
The two companies will sell each other's tickets for some flights and share revenue.
It will boost the German airline's access to the world's fastest growing aviation market as it moves to compensate for a slowing in European traffic.
Lufthansa is also looking to stem competition from fast-growing Persian Gulf carriers on lucrative long-haul routes.
"Completes the set"
"It complements the group of joint ventures Lufthansa has around the world, and it was always our strategic goal to have a joint venture partner in the top five intercontinental markets, and today's joint venture completes that set," Lufthansa chief executive Carsten Spohr told reporters.
Lufthansa has in recent years built up a network of revenue-sharing agreements by striking similar deals with Singapore Airlines, United Airlines and Japan's ANA Holdings.
"There is infrastructure restrictions in China, especially when it comes to slots at the big, important airports in Shanghai and in Beijing and also when it comes to entry points on the Chinese border," Spohr said.
He added the deal would, "help us to optimise our schedules and, therefore, reduce those infrastructure restrictions which exist without disadvantaging the passengers".