Erdogan says US 'should not harbour a terrorist' like Gulen
Comments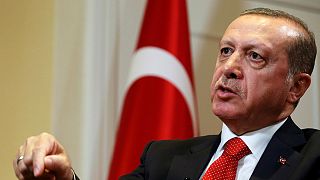 The Turkish president, who is in New York for the UN General Assembly, has accused the United States of "harbouring a terrorist" by refusing to hand over the exiled cleric Fethullah Gulen.
Recep Tayyip Erdogan said Washington had "no excuse" for keeping his former ally he blames for this summer's failed coup in Turkey, in which about 240 people were killed.
"We consider FETO (Gulen's organisation) as an ostensibly legal terrorist organisation that is illegal," Turkey's leader said in an interview with Reuters.
"Our people are having difficulty in understanding the United States' (position) when they don't hand over the head of this terrorist organisation," he went on.
"People ask: 'everything is fine but why is your strategic partner harbouring this terrorist in their country?'"
Turkey argues that Gulen, who has lived in self-imposed exile in Pennsylvania since 1999, has built up a network of followers over decades inside the armed forces and civil service.
Washington has said he will be extradited only if Turkey provides evidence.
The US Vice-President Joe Biden, visiting Ankara last month, said it was a matter for the courts, and the US was working with Turkey on the issue.
In Turkey, the head of Turkey's main opposition has said tens of thousands of people suffered injustices in government purges since the failed coup. The comments from Kemal Kilicdaroglu could anger Erdogan and threaten the fragile unity that has existed between the government and much of the opposition since the attempted coup.
Turkey has accused the European Union of double standards in criticising the crackdown, while hesitating in condemning the failed coup itself.
The Turkish president also accused the EU of failing to meet its obligations over Ankara's bid to join the bloc.
"Turkey has kept its promises regarding the EU membership process… It is a two-way street and the EU should fulfil its promises," he said. "We want the EU to be honest about this process."