Syria: Turkish 'safety zone' could span 5,000 square kilometres
Comments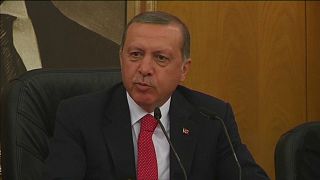 Turkey's so-called 'safety zone' in Syria could eventually span an area of 5,000 square kilometres, President Recep Tayyip Erdogan has said.
The Turkish leader said fighters backed by Ankara may extend their zone of control by pushing further south and were now focused on taking the ISIL held town of al-Bab.
Erdogan also criticised US special forces in the region, claiming they had exacerbated tensions with Turkey's rebel fighters in Syria.
"Jarablus was liberated. Now the people of Jarablus are returning home with joy. Al-Rai was also cleansed (from ISIL). Now we are moving towards al-Bab. They (the Americans) are asking 'why do you go there?'. We will. We need to make sure this area does not pose a threat against us."
Erdogan was speaking in Istanbul ahead of a trip to New York, where he is due to address the UN General Assembly.
Turkey has long argued for a so-called 'safe' or 'no-fly zone' along its Syrian border, something its Western allies have shied away from, saying it would require a significant ground force and planes to patrol.