Aleppo pounded by air strikes - monitors
Comments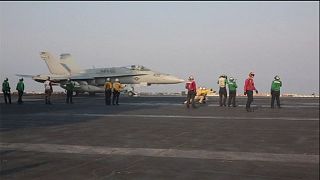 International monitors say the Syrian city of Aleppo has been hit by air strikes for the first time since last Monday's truce.
The UK-based Syrian Observatory for Human Rights says people have been injured.
The group says it is not possible to identify who was behind the air strikes.
ISIL claims to have shot down a Syrian military jet in the eastern city of Deir al-Zor.
The London-based Syrian Observatory for Human Rights says the jet came down in the Jebel Tharda area, near the government's military airport.
On Saturday, US-led coalition air strikes reportedly killed dozens of Syrian soldiers in Jebel Tharda.
Tensions between Moscow and Washington are escalating. There are concerns the US-Russia-brokered ceasefire is under threat.
"We consider that such an incident with a lot of victims only came about due to a lack of understanding of the context by the coalition's command, and because of the refusal by the US side to coordinate its actions against terrorist groups in Syria with Russia. We are currently awaiting clarification," Russian Army General Sergei Rudskoy told the media.
Coalition forces say they were targeting what was thought to be an ISIL position.
The operation was brought to an end as soon as they were warned of the presence of Syrian government forces.
The commander of US forces in the Middle East says the coalition would never intentionally target Syrian government forces.
"UN convoys are 'highly politicised'
The diplomatic row is likely to further complicate the delivery of much-needed humanitarian aid to Syria.
The situation in the country's largest pre-war city, Aleppo, remains especially tense. Witnesses say the fragile truce has been repeatedly violated.
The UN has told the Reuters news agency that aid trucks had been expected to move into Aleppo on Sunday but have once again been delayed.
"It is a tough moment. The UN convoys are highly-politicised," one top aid official in Geneva is quoted as saying by Reuters.
Russia's Defence Ministry says conditions in Syria are deteriorating.