Russia casts doubt on US commitment to Syria ceasefire
Comments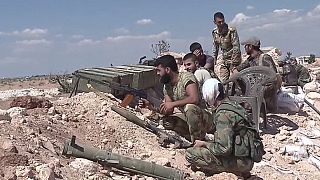 A fragile ceasefire in Syria appears largely to be holding, but tensions are rising between its brokers.
The US, which backs some rebel groups in the civil war and Russia, which supports troops loyal to President Bashar al-Assad, agreed to cool fighting from Monday, September 12.
It was hoped their joint focus would turn to combatting ISIL and other jihadist factions.
However Russian President Vladimir Putin says the US is more focussed on holding onto the rebels' military capacity than abiding by the terms of the truce, casting doubt on Washington's commitment to the deal.
One of the goals of the ceasefire was to separate moderate and militant groups. Commenting from Kyrgyzstan, Putin said the US had been unable to split the moderates from the "semi-criminal" rebels.
"We (Russia and US) agreed that al-Nusra Front should be distanced from the opposition and that their location should be disclosed as well as that of the so-called healthy [moderate] forces. What do we see instead? We see no separation of terrorists and healthy forces, but rather attempts by terrorists to regroup…. and maintain its potential."
Another term of the truce was to enable aid through to the worst-affected areas.
Both sides agreed on Friday to extend the truce, but each blames the other for delays in supplies getting through.
The United Nations, meanwhile, has accused the Syrian government of blocking access to some areas by denying letters guaranteeing entry.
Insurgents have expressed doubt over the viability of the deal from the beginning. They say it is stacked against them, but they accepted it to help relieve the critical humanitarian situation in besieged parts of Syria. Reuters quotes a rebel official as blaming Moscow for undermining the ceasefire.