17-year-old becomes first minor to die by euthanasia in Belgium
Comments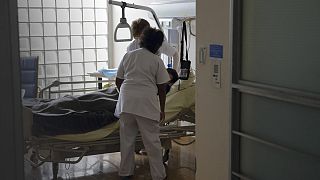 A 17-year-old has become the first minor to die by euthanasia in Belgium.
It is the first application of rules adopted by the country in 2014.
They allow for the doctor-assisted death of minors of all ages if their condition is incurable.
Wim Distelmans: "17 of niet, op lijden staat geen leeftijd." https://t.co/09YAZKq9xzpic.twitter.com/4EAZ5TYnrL

—

VTM

NIEUWS

(@VTMNIEUWS) September 17, 2016
Wim Distelmans, the head of Belgium's Federal Control and Evaluation Committee on Euthanasia, said in an emailed statement that this first case was reported to his committee by a local doctor last week.
The minor is reported as having been critically ill, but no other information has been given.
How long has euthanasia been legal in Belgium?
Belgium legalised euthanasia in 2002.
Two years ago it amended the rules to permit doctor-assisted death for minors.
How unusual is this?
Very.
Belgium is the only country in the world allowing euthanasia for minors of all ages.
In the neighbouring Netherlands, the practice is possible for children aged at least 12.
How many people take advantage of Belgium's law?
Records from the national euthanasia control committee show that, between 2003 and 2013, the number of patients being euthanased in Belgium rose nearly eightfold.
The total number is 8,752 cases.
Paralympian focus
Belgium's euthanasia legislation has received international attention recently as a result of the paralympian athlete Marieke Vervoort.
The Belgian national says she is still considering euthanasia but, contrary to media reports, will not be ending her life immediately after the Games in Rio.
The 37-year-old has an incurable and degenerative spinal condition. She signed euthanasia papers in 2008 in Belgium.
Vervoort, who won a silver medal in the 400m wheelchair race, rejected reports that she might take her life after Rio.
"I have my euthanasia papers in my hand but I am still enjoying every little moment," she told reporters.
"When the moment comes, when I have more bad days than good days, then I have my euthanasia papers. But the time is not here yet."
Vervoort was diagnosed with the condition as a teenager.
She went on to win Paralympic gold in the 100m and silver in the 200m in the London Games in 2012.
At the time, she confirmed that Rio would be her last competitive appearance.
Paralympian Marieke Vervoort plans to end her life when the pain from her debilitating illness becomes too much. pic.twitter.com/ekqj4wPXnC

— Channel 4 News (@Channel4News) September 12, 2016