US pay drone strike victim's family
Comments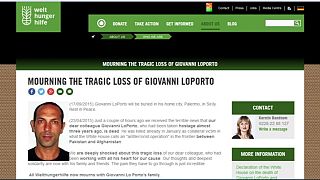 The US government has paid over €1 million to the family of a 37 year-old Italian aid worker who was killed by a US drone attack whilst being held hostage in 2015.
U.S. to pay family of Giovanni Lo Porto https://t.co/bjbpxlBOxipic.twitter.com/BiTYnCEaQB

— Meme News (@memenewsdotme) September 16, 2016
The drone strike took place on the border between Afghanistan and Pakistan where the US regularly conducts what they call 'secret counter-terrorism missions.'
Obama admitted last year that Giovanni Lo Porto was killed alongside US citizen Warren Weinstein by a US drone whilst they were being held hostage by al-Qaeda. But the payment was described as 'a donation in memory' of the victim rather than as compensation.
#AlQaeda Releases VDO Of #US Hostage Warren Weinstein & #Italian Hostage Giovanni Lo Porto Who Killed In Air Strike pic.twitter.com/sewK9MibGq

— NTA✪NEWS™ (@NoThiefs) July 25, 2016