2016 to be hottest year on record
Comments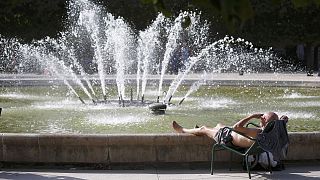 July and August 2016 tied as the hottest months in modern times.The World Meteorological Organisation (WMO) warn that the consequences of warming at this rate could soon spell disaster. They say 2016 will be the hottest year since records began 137 years ago and are urging world leaders to implement the Paris (COP21) Agreement as soon as possible.
Our planet is really sending distress signals, and we need to act...

WMO spokesperson
The heat goes on:
August's global temperatures set another record, even with the disappearance of El Niño. #climatepic.twitter.com/XgDPM8LOJS

— Peter Gleick (@PeterGleick) September 12, 2016
Urgent action needed
This week the WMO's Claire Nullis demanded action at a conference in Geneva saying:
"The need to ratify, and even more importantly, to implement the Paris agreement is more urgent than ever before. Our planet is really sending distress signals, and we need to act, we need to cut greenhouse gas emissions dramatically and quickly."
#ClimateChange is expensive. We shouldn't be the ones stuck with the bill https://t.co/iLf7gkZGuEpic.twitter.com/SxxDHyfiVx

— Climate Reality (@ClimateReality) September 16, 2016
Record CO2 levels
Carbon dioxide levels in the atmosphere are also at record highs. China and the US are the biggest carbon-emitters representing 38% of global emissions. Earlier this month, they agreed to ratify the Paris agreement. Though a very welcome move, this is only the first step. The COP21 agreement requires ratification from 55 countries representing at least 55 % of world emissions and that is before the implementation process even begins.
Coral reef watch – One year's data of sea surface temperature monitoring for #CoralBleaching – NASA</a> <a href="https://twitter.com/hashtag/IUCNCongress?src=hash">#IUCNCongress</a> <a href="https://t.co/MmfXIP9itF">pic.twitter.com/MmfXIP9itF</a></p>&mdash; Richard McLellan (RichardMcLellan) September 5, 2016
Coral bleaching
The effect of warming in the oceans is already reeking havoc with coral bleaching of unprecedented proportions. Some Climatologists say that the bleaching and extreme weather suggest climate change is advancing quicker than anticipated.
Warm ocean temperatures persist in W Pacific, fueling dangerous typhoons and also coral bleaching #climatepic.twitter.com/Og7CaqHOAy

— Simon Donner (@simondonner) September 14, 2016