Spain's taxpayers will never get most of bank bailout money back - report
Comments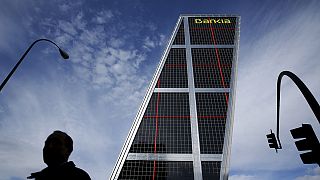 Spain's government has reportedly admitted it will never get back much of the more than 50 billion euros used to bail out the countries' banks.
Last week the central bank said just five percent of the bailout cash – 2.69 billion euros – has been recovered in seven years.
Now the newspaper El Pais says it has been told by the Bank of Spain that 26.3 billion in state aid is gone forever along with 11.7 billion paid out by the lenders themselves after the booming construction industry and property market imploded.
Bank of Spain says €26bn of bailout will never be recovered https://t.co/KE3WHPhyAh via el_pais</a></p>&mdash; On Line English (OLE_Marjory) September 12, 2016
That is despite Spain's people being promising they would not end up footing the bill when the banking crisis erupted there in 2012.
Spain's economy minister, Luis de Guindos, the primary architect of the bailout plan, has said repeatedly "most" of the cash would be recovered.
The Bank of Spain has said at this stage that it expects to recover a further 2.3 billion euros.
By contrast, the rescue package for the financial sector in the US actually made a $620 billion profit for the government.