No longer Charlie: Amatrice to sue Charlie Hebdo over cartoon
Comments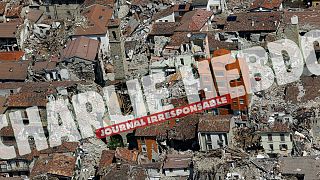 Amatrice Town Council has filed a petition against French satirical newspaper Charlie Hebdo for 'aggravated defamation' after it published a cartoon showing the victims of last month's earthquake in Italy as pasta dishes.
This is macabre, senseless and inconceivable insult to victims of a natural event

Lawyer
"This is macabre, senseless and inconceivable insult to victims of a natural event," lawyer Mario Cicchetti was quoted as saying by ANSA news agency.
The majority of the 295 victims of the quake were in Amatrice, also the birthplace of the famous Amatriciana pasta sauce. The town was largely flattened by the magnitude 6 earthquake which struck on August 24.
The cartoon entitled 'Earthquake Italian style' depicted a man covered in blood next to 'Penne in tomanto sauce', a badly scuffed up woman labelled 'Penne au gratin' while feet sticking out between the floors of a collapsed building was titled as 'Lasagne.'
Comune di Amatrice querela Charlie Hebdo https://t.co/Qiu8PhBnPU

— Ansa it (@ansa_it) September 12, 2016
At the time of its publication Mayor Sergio Pirozzi said, "How the f*** do you draw a cartoon about the dead?"
It caused diplomatic ripples, with the French embassy in Rome releasing a statement on Twitter saying that the cartoon 'absolutely does not represent' France's position.
There was a major backlash against the paper in Italy with people calling it 'bad taste' and disrespectful'. Many in Italy had shown solidarity with Charlie Hebdo when it was attacked in 2015, by adopting the hashtag #JeSuisCharlie. The paper attracted support after 12 people were killed during the January attack, and it was hailed for symbolising freedom of expression. After the quake cartoon some simply said 'I am no longer Charlie'.
Responding to the controversy, they followed up with a cartoon which portrays someone buried in the rubble and reads: "Italians, it's not Charlie Hebdo who has built your homes, it's the mafia!"