Eid al-Adha celebrated around the world
Comments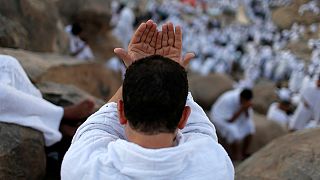 Muslims around the world celebrate one of the most important festivals of the Islamic calendar on Monday (September 12): Eid al-Adha.
It comes as the annual Hajj pilgrimage to the city of Mecca, Saudi Arabia draws to a close.
Graphic on annual #hajj pilgrimage in Saudi Arabia as 1.8 million Muslims gather around Mount Arafat pic.twitter.com/qLl2a8wmHe

—

AFP

news agency (@AFP) September 11, 2016
#SaudiArabia#Hajj Pilgrims gather at Namira Mosque in Mount Arafat, #Mecca#AFP Photo by gharabli_ahmad</a> <a href="https://t.co/UDHdMzcpYp">pic.twitter.com/UDHdMzcpYp</a></p>&mdash; AFP Photo Department (AFPphoto) September 12, 2016
Stoning of the devil
Thousands of pilgrims partake in the stoning of the devil ritual in the Saudi city of Mina. It symbolises the rejection of Satan's temptations.
WATCH: Hajj pilgrims begin stoning of the devil ritual pic.twitter.com/jOtvz1pouB

— Press TV (@PressTV) September 12, 2016
Palestinian prayers
Several hundred worshippers attended a mass prayer in Jerusalem's compound known as al-Haram al-Sharif, or Noble Sanctuary.
The Palestinian president took part in prayers in Ramallah and laid a wreath at the grave of former leader Yasser Arafat.
From occupied Palestine, Eid Mubarak to all Muslims around the world #EidAladhapic.twitter.com/Bn4o4×8eQe

— Palestine Info Centr (@palinfoen) September 12, 2016
Afghanistan
A peace deal with one of the country's most notorious warlords is close to being concluded in Afganistan. The country's president said it offered hope for an end to decades of conflict.
AFGHANISTAN- A vendor waits for customers at cattle market set up for Eid al-Adha near Jalalabad. By NoorullahShirz</a> <a href="https://t.co/P2OtugpEig">pic.twitter.com/P2OtugpEig</a></p>&mdash; Frédérique Geffard (fgeffardAFP) September 10, 2016
Sacrifice
Many celebrate Eid by slaughtering animals such as sheep and goats. It marks Prophet Abraham's willingness to sacrifice his son Ismail on God's command.
The meat is shared among family and friends and also donated to the poor.
Goats and sheep at a live stock market in Deir al-Balah, Gaza Strip, ahead of Eid al-Adha. #AFPMahmudHams</a> <a href="http://t.co/w77v7apcgB">pic.twitter.com/w77v7apcgB</a></p>&mdash; Aurelia BAILLY (AureliaBAILLY) September 22, 2015
Russia
Russian President Vladimir Putin has congratulated the country's Muslims on the Eid al-Adha holiday, known in Russia as Kurban Bairam, that marks the end of the hajj pilgrimage, the Kremlin press service said.
The country's prime minister Dmitry Medvedev also congratulated the Muslims of Russia, saying that the holiday "has a centuries-long history and is based on the Muslim traditions and is a symbol of unity, brotherhood and solidarity."
Vladimir #Putin congratulated #Russia|'s Muslims on Eid al-Adha, a holiday that marks the end of the Hajj pilgrimage pic.twitter.com/Q2w5qFbzWZ

— ГК РФ в Женеве (@RusConsulGen) September 12, 2016
Known as Festival of the Sacrifice, #EidAlAdha also reminds us Christian & Muslim faiths share elements, narratives. pic.twitter.com/Px94HSyMav

—

BPI

-

ARMM

(@BPIARMM) September 12, 2016
---