South Korea urges the world to put pressure on Pyongyang in wake of nuclear test
Comments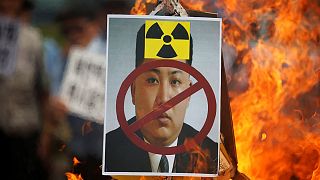 South Korea has called on the world to pressure Pyongyang into giving up its nuclear programme.
North Korea's fifth and reportedly largest detonation provoked international condemnation and protests.
The South Korean Foreign Ministry claims the test is evidence of its neighbour's quickly-expanding nuclear capabilities.
"We, along with the international community, need to create a certain environment that strains North Korea inevitably, through stronger sanctions and pressures, and through strengthening restraints against North Korea, which the US also agrees with," Foreign Minister Yun Byung-se told the press.
Despite UN sanctions, Pyongyang claims it is now able to mount a warhead on a ballistic missile, greatly increasing the threat to surrounding nations.
UN Security Council President Gerard Van Bohemen confirmed the body would work on drafting a new resolution.
"The members of the Security Council also recalled that they had previously expressed their determination to take further significant measures in the event of a further nuclear test by the DPRK. The members of the Security Council will begin to work immediately on appropriate measures."
Under leader Kim Jong un, North Korea has accelerated the development of its nuclear and missile programmes, leading to tougher and tougher sanctions being slapped on the isolated country.
The underground test was carried out on the 68th anniversary of the founding of North Korea.