Landon Donovan ends retirement and returns to LA Galaxy
Comments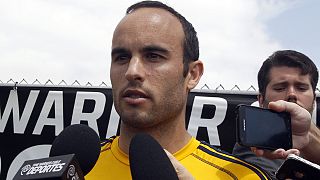 Landon Donovan has decided to come out of retirement to play for LA Galaxy for the remainder of the 2016 Major League Soccer season.
The player said the injury of Steven Gerrard was a factor in his decision to return.
The 32-year-old is scheduled to rejoin the team immediately to begin training and could make his first return appearance as early as this weekend.
Donovan is MLS' all-time leading goalscorer and made more than 150 appearances for the USA national team
He retired in December 2014, citing burnout after leading the Galaxy to their fifth MLS Cup title.
The forward won a record six MLS Cups, four with LA Galaxy and two with San Jose Earthquakes.