Apple's AirPods stir up anger and internet wit
Comments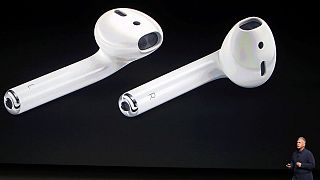 Apple has axed the jack and a lot of people want it back.
The decision not to have a headphone socket on its latest iPhone has sparked protests and petitions.
The tech giant thinks the future is wireless, but social media has been awash with criticism and witticism.
Some mocked the shape of the AirPods, seeing similarities with other household objects.
Not bad #AirPods#AppleEventpic.twitter.com/x0b4IKfFOu

— Nicola Felaco (@Felasquez) September 7, 2016
Just got those new AirPods. pic.twitter.com/hbvr3HpLaI

— Dr. Sheldon Cooper (@TheRealSheldonC) September 8, 2016
The ear buds may be beloved by Apple's chief designer Jonathan Ive, who said we are at the beginning of a truly wireless future, but the ones with wires – what Apple calls "ancient" technology – still have plenty of fans and supporters.
rip to my headphones. gone but not forgotten. #AppleEventpic.twitter.com/VMl4V9YY6I

— mackeznie (@mackenziejak) September 7, 2016
Another issue is that the AirPods need to be charged.
Tweets bemoaned the fact that each charge lasts only five hours pointing out that Apple is making people's lives more complicated.
Life is really too short for charging headphones every night. That is not simplicity. #AppleEvent

— Ryan Love (@RyanJL) September 7, 2016
Many people on social media complained that without a wire and being so small, the in-ear device is much more likely to get lost than traditional headphones.
This was an oft repeated trope, ahead of the release of the phone and the wireless headphones.
I don't even own #Airpods yet and I've already lost one. #AppleEvent

— Daniel Bostic (@debostic) September 7, 2016
Which brought an inevitable backlash.
I haven't even bought apple AirPods yet and I've already LOST MY MINDFROMHOWMANYTIMESIVESEENTHISJOKE

— Julien Solomita (@JulienSolomita) September 8, 2016
The AirPods make be sleek and cool but the small size means not only can they be easily lost but brought concerns about the danger with the chance that they could be swallowed by curious, small children.
Apple Airpods are pretty innovative. However, they are just two more things to lose or for my kid to choke on.

— Andy Irwin (@irwinandy) September 8, 2016
And then there is the price; in the US that will be $159 and almost certainly they will be more expensive in Europe, as is always the case with Apple gear.
Inevitably someone came up with a clever way to save money using a pair of scissors on the traditional headphones.
They don't work but they look kind of the same.
Just saved myself $159 #AirPodspic.twitter.com/WyMyscy3ka

— Internet Palace (@InternetPalace) September 8, 2016
Apple has yet to comment on whether you can buy half a pair cheaper if you lose just one.