US Presidential candidates trade security-themed insults
Comments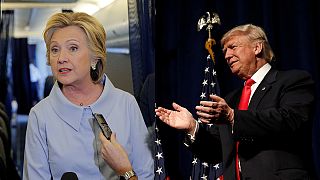 US presidential hopefuls Hillary Clinton and Donald Trump exchanged insults rooted in the theme of national security on Tuesday. Trump has been trying to claw back the support of veterans after a series of gaffes which Clinton was quick to use as ammo.
Putin and Trump hand in hand
"Russia doesn't like ISIS any better than we do. Wouldn't it be nice if we actually got along with Russia and we could knock them out together? Wouldn't that be a good thing?", Trump told a crowd in Virginia. "As opposed to you know, tough talk. She (Hillary Clinton) tries to do the tough talk and then she leaves. She goes. I watched it yesterday on the airplane. Talking tough about Russia then she turned around and sat down."
YUGE crowd again for Trump in Virginia Beach, VA. realDonaldTrump</a> <a href="https://twitter.com/TrumpNewsNetwrk">TrumpNewsNetwrkmitchellvii</a> <a href="https://t.co/AkUwbqzE2j">pic.twitter.com/AkUwbqzE2j</a></p>&mdash; SCPatriot (patriots4trump) September 6, 2016
Trading insults
In a preemptive move, Trump presented a letter of support signed by 88 retired generals. Meanwhile, Clinton broadcast an advert showing veterans cringing at Trump's statements on national security.
Clinton addressed a crowd in Tampa, Florida saying: "His (Trump's) whole campaign has been one long insult to all those who've worn the uniform to protect our most cherished American values and a man who is so wrong about our veterans isn't right to serve as our Commander-in-Chief, and when it comes to fighting ISIS (so called 'Islamic State') he has been all over the map, you would have to literally map it out".
Hillary Clinton slams Trump in Tampa: "His whole campaign has been one long insult" to veterans pic.twitter.com/D2OUg9CUlp

— Monica Alba (@albamonica) September 6, 2016
Florida and Virginia were chosen by the candidates because they are both pivotal swing-states. Clinton and Trump will make their first joint televised appearance at the veteran-sponsored National Security Forum in Nevada on Wednesday.