Locals disrupt Calais traffic in call for demolition of "jungle" migrant camp
Comments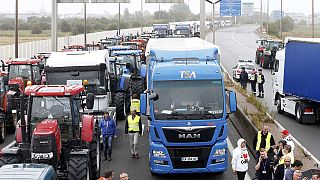 Some of the protesters who came to block the motorway approaches to Calais on Monday have vowed to stay and fight on until the migrant camp there dubbed the
"jungle" is destroyed.
I have a five year-old son and I don't want to make an orphan out of him.

Truck driver
The protest, called by local businessmen, truck drivers and farmers was in anger at the
transformation of the busy port town into a frontline hotspot in the EU's migrant crisis.
Traffic was back to normal by the early afternoon, but the protest was a taste of things to come if matters do not improve say some locals.
"Just look at me, I'm tired, very tired, and worn down. I have a business with 12 employees, but I can't go on…" said brasserie owner Régis Capitaine.
"We are fed up with the migrant situation in Calais. They are increasingly aggressive. We leave in the morning. We don't know how we are going to return in the evening because of the rocks and metal bars being thrown at us. They even have machetes and everything. I have a five year-old son and I don't want to make an orphan out of him," said truck driver Blaise Paccou.
Apart from the fear of truckers local farmers say their crops have been damaged and animals have gone missing. They blame the migrants, and say the French police have been overwhelmed. The local opposition Mayor says their hands are tied.
"Today, French law does not allow for the arrest of migrants, smugglers, or "no border" militants, and no penal action can be taken against them," said Les Republicans Natacha Bouchart.
The jungle has been allowed to grow to bursting over the years as the French have failed to deal with the problem. It has only got worse, and even Brexit will not diminish the appeal of the UK and Calais, its continental point of entry.