Germany's AfD - a flash in the pan or here to stay?
Comments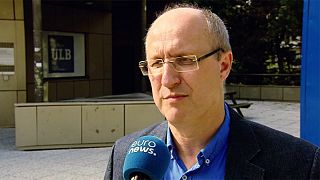 For insight into the rise of the far-right Alternative for Germany (AfD) party in Germany, euronews spoke to Jean-Michel De Waele, Professor of Political Science at the Free University of Brussels.
"It seems that something is happening in Germany, but it must still be confirmed over several elections. There have often been surges by the far-right in German regional elections, that are then not confirmed afterwards. France has had the National Front for decades. In Germany this is something new and it will see if it stabilises or if it's a flash in the pan," de Waele said.
The AfD, which was founded only three years ago, pushed Chancellor Angela Merkel's CDU party into third place in a key regional election on Sunday 4 September, and is now represented in nine out of Germany's 16 regional parliaments.
"It's too early to say if the AfD is installed permanently in the political landscape," de Waele told euronews. "Neo-Nazis have been installed in some of the regional parliaments, behaved ridiculously, and voters then learnt their lesson."
De Waele said refugee policy will continue to play a crucial role in the party's development.
"We must see if in the coming months the debate on refugees is still the number one issue, or socio-economic issues."