Germany begin World Cup title defence with a stroll in Norway
Comments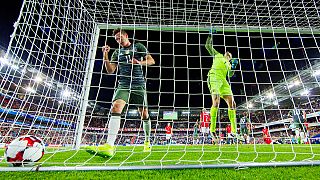 Hello and welcome back to The Corner. The Russia World Cup will take place in two years, but the fight to be present in this big football event has begun.
This weekend, some European national teams played their first matches for the qualifying phase.
Among them, the reigning champions, Germany. Let's take a look at the most important clashes.
Germany strolled to a 3-0 win over Norway in Oslo
Bayern Munich's Thomas Muller got the visitors off the mark in 15 minutes and set up the second for Joshua Kimmich just before half time. Muller headed home the third in the second half to seal the game for Die Mannschaft and take the lead in Group C.
Just as in the European Championships, England struggled to break down Slovakia in their opening World Cup qualifier, even so when they were reduced to 10 men when Martin Skrtel was sent off in the 57th minute.
But Adam Lallana saved the day with a 95th minute winner on Sam Allardyce's first game as manager.
Up&Down
Who's had a week to remember and who's had one that they would rather forget? Let's discover who is hot and who's not in our weekly section Up&Down?
Wayne Rooney has surpassed David Beckham as England's most capped outfield player with 116 matches. At only 30 years old the Manchester United player is on track to overhaul Peter Shilton's record of 125 caps.
As the only team from the British Isles not to make the European Championships, Scotland are looking to make amends. They got their qualifiers off to a flyer when they beat Malta 5-1 courtesy of a Robert Snodgrass hat-trick.
Leo Messi scored the winner during Argentina's 1-0 win over Uruguay. Problem is, he injured his groin. The forward has returned to Barcelona for treatment and won't play against Venezuela.
Top of the league
On August 31st, the summer transfer window slammed shut. Today we analyse who are the European clubs with the most valuable team. We'll give you a clue. The top two come from La Liga. Do you know who are we talking about?
With players on their books such as Modric, Ramos, Bale Ronaldo, Real Madrid easily top the list spending 769 million Euros. Barca, Bayern Munich and Manchester Utd complete the top four.
Big spenders
1. Real Madrid – 769,30 M €
2. FC Barcelona – 756, 0 M €
3. Bayern Munich – 582,15 M €
4. Manchester United – 534,25 M €
But if we are merely talking about the summer transfer market, then Britain leads the way. The Premier League's splurged almost one and a half billion euros on players. That's almost twice as much as the Italian league. The Bundesliga spent just over 500 million euros while the Spanish league is fourth.
Premier League of their own
Premier League – 1420 M €
Serie A – 711 M €
Bundesliga – 556 M €
La Liga – 492 M €
We might be wrong
International matches don't stop. These are our predictions for some of the matches coming up this week. Why not have a go yourselves – send your results in on the social networks using #TheCornerScores.
World Cup 2018 Qualification
Belarus 0 – 3 France
Sweden 1 – 1 Netherlands
Switzerland 1- 2 Portugal
That's all for today. We say goodbye with this amazing goal scored in the second division in Ukraine.
The Corner returns next week with all the news form the world of football. See you soon.