Eurozone August business growth weaker
Comments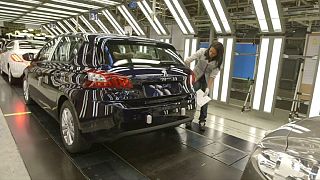 Business growth in the eurozone was weak in August. It was the most lacklustre it has been since the start of last year, according to the latest surveys of thousands of companies.
The numbers suggest the region's struggling economy is losing what little momentum it had.
The slowing – which was particularly marked in Germany – came even as firms cut prices further, which they did despite their costs rising for things like raw materials.
German services industry growth slowed more than expected, its weakest showing for more than three years. However, French, Italian and Spanish growth accelerated.
#Eurozone#PMI at 19-month low of 52.9 as German economic growth slows https://t.co/Jdm5hupvZbpic.twitter.com/5ChUMZzYJc

— Markit Economics (@MarkitEconomics) September 5, 2016
Economists said the surveys suggested that the European Central Bank's stimulus policies were not working and underscored the limits of what the ECB can achieve.
Commerzbank economist Peter Dixon said: "The ECB's policies don't seem to be stimulating the kind of activity that is desired and it might prompt them to do more but ultimately it shows the limits of monetary policy."
The ECB is due to meet on Thursday for its first policy meeting since the summer break.