China and US ratify Paris climate change deal
Comments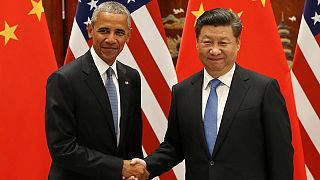 The world's two biggest polluters, China and the US, have both ratified the Paris climate change agreement.
President's Xi Jingping and Barack Obama announced the move on Saturday ahead of a G20 summit in the city of Hangzhou.
The ratification is seen as a key step in efforts to bring the deal into force by the end of the year.
In a speech in Hangzhou, President Obama said: "Now just as I believe the Paris Agreement will ultimately prove to be a turning point for our planet, I believe that history will judge today's efforts as pivotal. As the world's two largest economies and two largest emitters, our entrance into this agreement continues the momentum of Paris and should give the rest of the world confidence – whether developed or developing countries – that a low-carbon future is where the world is heading,"
China and the US together total around 40 percent of the world's carbon emissions.
The Paris pact was sealed last December and seeks to stop average temperatures rising above 2C compared to pre-industrial levels.
To take effect it needs the participation of 55 countries, representing 55 percent of global emissions.